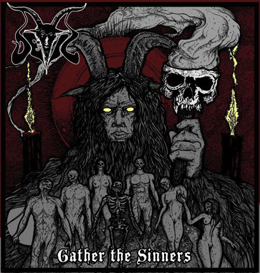 Gather The Sinners is the Norwegians' second album, a follow up to 2011's Time To Repent.
This CD starts off with a heavy and pounding Sab-riff that makes you want to hear more of what this band has to offer. So, as much as this record sounds like Black Sabbath, Witchfynde, Pentagram and even Kiss at times, Devil have got something special in their music and sound that sets them apart. The pace is kept down most of the time, but the music is never boring; the drumming stays interesting, and the guitar work is busy throughout, with appropriate, but not spellbinding vocals on top. When the music does speed up, the band holds its own equally well.
Gather The Sinners isn't a perfect CD, flowing somewhat uneven at times due to its grab bag mix of vintage doom rock, stoner-like grooves and NWoBHM rhythms. Still, it's strong enough throughout to hold any hard rock fan's attention.