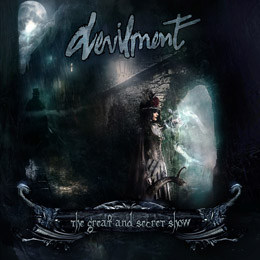 Album Title:
The Great And Secret Show
I'll be very short about this release. Devilment were formed by Daniel Finch in 2011. Since he was looking for a singer that could fulfil his ideas, he contacted his friend Dani Filth, you know, that pretty boy from Cradle Of Filth, who immediately agreed to co-operate. After Dani finished his part for the Cradle Of Filth-album The Manticore And Other Horrors, he did the vocals for the Devilment-demo Grotescapology. Then the line-up was totally deconstructed, with Daniel (and Dani) obliged to search for new musicians – which they did eventually find, of course. They entered the Grindstone Studio with renowned producer Scott Atkins (who worked with Cradle Of Filth before, as well as with the likes of Amon Amarth, Sylosis, Man Must Die, Behemoth etc.) and via major Nuclear Blast Devilment now release their debut full length, The Great And Secret Show.
Fifty five minutes it lasts, this album, and it is one theatrical and groovy experience. It's filled with technically well-crafted songs, heavy and up-tempo, melodious and forceful. Before I started listening the first time, I was afraid to hear some mainstream stuff, filled with clichés. That's half of the truth. Indeed this album is filled with every imaginable cliché that exists; that the half of the truth that is true. But mainstream isn't completely correct. Of course this material is pretty safe and big-audience-minded, but I expected more infantilism. Okay, I won't say that I am enormously enthusiastic, because I am not; I just expected it to be worse. What I dislike is pretty much (predictability, the addition of modern gadgets and the pubic clichés, the sound that is too clean, etc.), but there are several positives notes to mention too: variation, some splendid excerpts, and the professionalism of the instrumentalists.
My first sentence of this review was: 'I'll be very short about this release'. So be it…