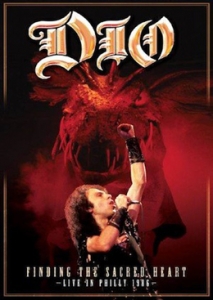 Album Title:
Finding The Sacred Heart – Live In Philly 1986
Hard to deny that, with the death of Ronnie James Dio on May 16, 2010 due to stomach cancer, one of the better singers in Heavy Metal music was brutally taken from that scene. A gap perhaps most badly felt by those who dealt with the man in daily life, as he was probably also one of the kinder people around! I readily admit that he was one of my personal inspirations for doing something within the music business, and although I was always too shy to actually go onto a stage (except for three shows with a somewhat misanthropic band which allowed me to stay unknown, as we were all disguised), it is true that I found my real calling in the music business as a writer (and originally also editor of my own magazine), some 28 years ago!
Setting personal stuff aside, I feel it's only befitting that the death of Ronnie be commemorated, and I therefore applaud the initiatives of DIO Disciples [founded in 2011 by former Dio (the band) musicians Craig Goldy (guitar), Scott Warren (keyboards), Rudy Sarzo (bass – he was replaced in 2011 by James LoMenzo, whom was himself supplanted in 2012 by current bassist Bjorn Englen) and Simon Wright (drums), and singer Tim "Ripper" Owens (replaced by Toby Menson in 2011, whom lasted into 2012, when Oni Logan took over)] and Last In Line [originated by original Dio guitarist Vivian Campbell (also of Whitesnake), whom contacted the other original Dio members Vinny Appice (drums), Jimmy Bain (bass) and Claude Schnell (keyboards) to start touring with Lynch Mob singer & The Offspring touring member Andrew Freeman]. I'm not sure how I feel about the music industry's attempts to make an extra buck on the man's death though!
I mean, the filmed documentary of that memorable concert at Philadelphia's Spectrum venue on June 17, 1986 (which had been used two years prior for the band's first full-length live video tape A Special From The Spectrum) included in this DVD was already released on video in the past (Sacred Heart "The Video"  was released through Warner Bros. that same year – it was later re-released on DVD with the altered title Sacred Heart "The DVD", adding an interview with Dio & Goldy), albeit in an edited version with tracks in different order of appearance. At least, the label has made an effort to not just copy that tape (they'd actually done that before, didn't they?), but give us the complete concert, the way it actually happened.
Evidently, the show not only included songs from the band's debut album Holy Diver [namely "Don't Talk To Strangers", "Holy Diver" (actually only an excerpt), "Stand Up And Shout" and "Rainbow In The Dark" (the latter played as the first encore)] it's follow-up The Last In Line [title track, as well as the album's opening "We Rock"] and the then current album Sacred Heart which the band was touring for [title track "Sacred Heart", the album's single ""Rock 'n' Roll Children, concert opening tracks  ""King Of Rock And Roll and "Like The Beat Of A Heart", and "Hungry For Heaven"], but also from Ronnie's past in Rainbow [excerpt of "Children Of the Sea" in a medley with "The Last In Line" and "Holy Diver" - the medley finished by a return to "The Last In Line", and excerpts of "Long Live Rock And Roll" and "Man On The Silver Mountain" in a combined medley with "Rock 'n' Roll Children", which is again used as opener and closer of the medley] and Black Sabbath ["Heaven And Hell"]. On top, the band also performed the song "Time To Burn", a track which they had included as a bonus in the track-list of the live album Intermission (the live part of which was recorded with Campbell during the first leg of the Sacred Heart Tour). But that wasn't all that show provided, for in true '70s tradition, the band brings a drums solo, as well as a keyboard and guitar solo! Passages which are in fact best enjoyed on film, as the CD version is incapable of showing what is actually going on during those passages! And, the band member's individual antics are really worth watching, you know!
Some background : The reason why, of all places, Dio (the band & management – the latter done by Ronnie's wife Wendy) chose Philadelphia's Spectrum to record a new live video at the time, was simply because that place had always found the audience being truly enthused, the venue packed. In other words, the ideal place to shoot such a live film! Now, as mentioned earlier, the film was recorded during the band's Sacred Heart Tour, and to promote that album live, the band had put together its biggest backdrop show ever, which included putting up the complete front-side of a castle (including a draw-bridge, and the drum plateau at a height of 15-20 Ft) every evening, as well as using robotics (actually they were hydraulics, and pretty much state-of-the-art in those days, although they pale in comparison with what's possible today - including two knights and, more spectacularly, a 20 feet high dragon) and laser show, as well as a set of horizontally turn-able headlights in X formation (read more about that in the booklet), and your "usual" pyrotechnics any respectable band would use those days.
More background : The band played an extended for the song "Sacred Heart", during which Ronnie would then do mock battle with the dragon, eventually winning from the beast, and opening its chest, to find...the sacred heart! Throughout the song, the dragon also occasionally spews smoke (apparently, Philadelphia's fire department had ruled against the dragon fire usual spewing), and Schnell has the dragon roaring a couple of times as well...at the appropriate moments, of course! Another important thing about the tour, is that halfway through original guitarist Vivian Campbell left (he'd become unhappy with the direction the band was taking, and was eventually to join Whitesnake in 1987). Luckily, there was Craig Goldy, a guitarist whom was a dire fan of Ronnie's, with whom he'd become friends when the latter was producing an album of Rough Cutt, a couple of years prior. At the time, Goldy had already expressed his warm desire to one day be able to be in a band with Ronnie, and actually knew all the material Ronnie had done by heart. So, the replacement was swiftly broken in after only a few rehearsals, and the Sacred Heart Tour was on its way swiftly enough after! His solo is certainly worth watching, indeed!
Okay, time to tell you about the extra features on the DVD. These include (as announced on the DVD) a 1:49 featurette with Dio presenting the upcoming show; a 6:39 interview with Ronnie, done in 1986; an 18:46 interview with Ronnie and Goldy, done...somewhere in he latter part of the last decade (perhaps 2008?, and possibly the same interview as on Sacred Heart "The DVD"?), the music video for the track "Rock 'n' Roll Children", and 9:24 worth of "Behind The Scenes" footage (featuring the band and some of its entourage, goofing off at Vinny Appice's missing meatballs, and Ronnie making fun of lighting desk man Paul Dexter).
Nice stuff as a package, and if one thing can be said about Ronnie himself, his voice was truly at its peak in those days! Nice tribute, and of course those Dio fans who didn't get the video first time around now can purchase a somewhat more endurable DVD...with added bonuses!