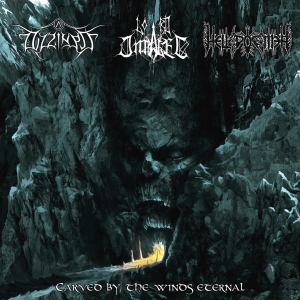 Album Title:
Carved By The Winds Eternal
When Black Metal was born almost four decades ago (!), Greece was one of the protagonists, yet largely underestimated. Throughout the years, the Hellenic scene remained of high importance, but they never reached the same fame as, let's say, the Scandinavian countries. Of course, there are some exceptions, but I am not going to come up with a list of 'known' (read: popular) band from out there. You know who they are…
I have always adored the Greek (underground) scene. Like in many countries, there are so many excellent underground bands and projects going on, doing their thing, blackening the world by their diabolical psalms, promoting rape and torture, mass extinction and blasphemy via their messages of grimness and evilness. Hehe, seems like I mean it, hehe… No, seriously, I do appreciate quite some bands from one of the most relevant ancient-historical / cultural countries from European soil.
Carved By The Winds Eternal is a split that gathers three of those bands: Dizziness from capital city Athens, Lord Impaler, hailing from Kastoria in the North-West of Greece (close to the borders with Albania and Macedonia), and Hell Poemer from the western city of Ioannina, quite close to the Ionian Sea. All of them are sort of comparable – not sounding the same; that's another thing. They collected two tracks each, gathered as Carved By The Winds Eternal, and it was originally released independently via digital sources on March 7th 2016. April 15th 2016 saw the very same release on cassette via Polish label Black Death Production, and then a compact disc edition showed up as well, evidently, done in another collaborative partnership in between Russia's Symbol Of Domination Productions and The Ritual Productions from The Netherlands. The CD version (regular jewel-box) comes in an edition of 500 copies, and it does include a four-page booklet with intriguing artwork. Is it the gate of Mount Doom?...
The split opens with two tracks by mighty horde Dizziness, who will celebrate their tenth anniversary this year. This combo surprised me more than once before, cf. their Lower Silesian Stronghold releases Bound In Strength (http://www.concreteweb.be/reviews/dizziness) or the split Impetum In Tenebris with Mortuus Caelum and Enoid (http://www.concreteweb.be/reviews/mortuus-caelum-enoid-dizziness). The quartet, consisting of forming member Pyriflegethon (guitars), new chanteur Ithonas, guitarist Moscho (also an original member), and bassist Halál, was assisted by drummer Geegor (of Divine Blasphemy / Diabolical Principles / Archaeos / Acrimonious / Mortuus Caelum-fame), who's part of the permanent line-up in meantime. Geegor, by the way, took care of mixing and mastering too at his Abyssal Productions Studio.
After a twenty-seconds intro, the listener gets confronted with superior, martial, epic and melodious Black Metal, quite strongly inspired by the Nordic scene. For sure there is a prominent influence of the more Epic / Viking / Pagan oriented 'trend' from the Nineties, and this sounds at least as fantastic as many bands from back then. All members are true artists. I deeply adore the drum patterns, which are of a superb, somewhat eccentric nature. And what about the rhythms strings (bass and guitars)? As one full wall of sound, they stand like an erected fist in the ass of [fill in like you want]. Both rhythm guitars and bass lines sound simply majestic, supporting and, at the same time, coming with their own identity. And those raw, even emotive screams, what a pleasure to listen at. Last but not least are the leads and solos, for this material is sort of carried by those tremolo riffs especially. But there's more. Actually, this opening piece is divided into two parts, being a fast and energetic first chapter, and a slow, more atmospheric second one. It's like one big adventure, touching and caressing the elegance of the Second Wave. Very nice. Άρπυιες (read: arpyies) is comparable, yet little harsher. This track constantly balances in between fast and slower excerpts, with once again that sublime use of all instruments. This track is simply ingenious with it's mostly diverse individual, yet highly cohesive, fragments, enthralling and exciting the whole of the time. Great too are the guest vocals by Iapetos 666 of Unholy Archangel / Chaosbaphomet-fame and Kerveros (Athos). And to end my enthusiasm with: what a killer production! The sound of both (quite lengthy) pieces is beyond superiority: rough, full, unpolished and mighty!
Next come Lord Impaler, a sonic army that was formed at the end of last century. Despite two decades of existence, there was only one full length before (Admire The Cosmos Black), as well as some split contributions and a few EP's. Mix and mastering of their acte de presence was done by original members Lord Nebulah (guitars) and Tragon (vocals).
A Fire That Burns offers a magnificent view on this band's qualities. Pretty much in the vein of, once again, the Scandinavian scene from the Nineties, Lord Impaler brings a strongly rhythmic and, at the same time, melodic war-hymn that reminds me especially of those bands that characterised the core of the scene back then. The track contains everything that typified that scene, yet without turning into a cheap and pathetic copycat. Here too, the band plays with interactions and changes in structure and speed, without exaggerating and without turning into some poppy entity. The melodic guitars are carried forward by a nasty rhythm section, assisted by dry, almost rusty screams. The other track is quite remarkable. The band brings a fine, little eccentric and self-developed version of Bathory's classic (one of the many classics!) Call From The Grave, and in some mardukian of dark funereal way, they reinterpret that original majesty with a very inventive own approach. Seriously, it does even impress me (and as a die-heart, eh, die-hard Bathory-adept, it does mean something to me!).
The split ends with two compositions created by Hell Poemer, also active for quite some time (formed in 2005). You might know them from the split with city fellowmen The Eternal Darkness, or their full length Arcane Mysteries Of Dead Ancestors (2013, distributed via France's Drakkar Productions). The two compositions on Carved By The Winds Eternal were recorded in Winter 2014-2015 at the Old Kate Studio (vocals, drums and flutes) and the Crown Studio (strings and keyboards), and everything got mixed and mastered by Achilleas 'C.' Kalantzis, known from e.g. Aenaon, Katavasia or Varathron. The latter, by the way, also did a guest solo.
Hell Poemer are the most bombastic / symphonic out of the three acts represented on this split. Orchestral synths, choirs, melodious solos and dramatic riff passages characterise this band's presence. The Sacral Know Of Hierophant is a rough-edged yet melodious piece, including quite some changes in tempo once again. The vocals are deeper, less 'screaming', and there is more of a cosmic atmosphere going on. The closing chapter, for example, with those floating keyboard lines, are a clear example. The second track, My Dreams Will Stay Frozen On The Mountains, is more emotional, even touching, in a far distance, the unearthly presence of Gothic Black dimensions. It represents tragedy and emotion, not of the NSBM or funereal kind, but still there is a theatrical grotesquery within this song. The leading riffs, spoken words / whispers, atmospheric intermezzos, acoustic injections and piano / synth strengthen those ideas.