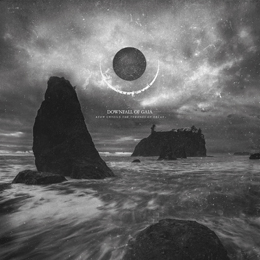 Album Title:
Aeon Unveils The Thrones Of Decay
Germany's Downfall Of Gaia were originally formed as D-Beat / Crust / Grind / Punk act, but throughout the years, they evolved into a much more oppressive and obscure Metal-focused entity. I was enormously pleased with their 2012-album Suffocating In The Swarm Of Cranes (also via Metal Blade Records); the review for that record was updated on December 23rd 2012, by the way. Then they played live all over the world, along with notorious acts like Neurosis, Toxic Holocaust or Black Tusk a. o. Earlier this year, Dominik Goncalvez dos Reis and his crew entered the '79 Sound Studio to record this new album. The result was mixed at Atomic Garden Studio, and the mastering was done at the über-famous Audiosiege Studio.
Aeon Unveils The Thrones Of Decay is a one-hour-experience, once again built upon different levels of eccentricity and experiment. The album opens with Darkness Inflames These Sapphire Eyes, which opens with an eerie guitar sound, very soon followed by acoustic guitars. But after about a minute and a half, Armageddon enters by transforming the relative quietude into a harsh and speed-up Black assault. And so it goes on with this track (and the others): highly variative material with constant changes in tempo, structure and melody. There are slower, little sludging passages, sometimes haunting then again depressing, interfering well with violent outbursts and merciless blasts. The injection of bleak acoustic intermezzos is great, and I mean that. I am not always convinced when a band uses them – sometimes it sounds like an obligation, forgetting the essence of the band's right to exist – but in Downfall Of Gaia's case it does succeed to maintain the core.
I can't (and won't) write something about each single grandiose detail that is part of this masterpiece, so I will focus on just some grandiose elements. I mentioned the opening track. Well, the last part of it (call it the one and only definition of Grande Finale!) comes with drum salvos of an unaussprechlich highly-qualitative level. It must be one of the best drum patterns I have ever heard in more than twenty five years of passionate metalove! Truly superior. And that goes for the battering throughout the whole album, as a matter of fact: fabulous drum work that supports, carries and defines the sound on Aeon Unveils The Thrones Of Decay. FYI: these drums are performed by a new drummer, Michael Kadnar, the guy who runs the vinyl-only label Silent Pendulum Records. The vocals too are overwhelming, but that's not new. These throats are the ultimate echoing sound from the Underworlds, as if the sulphur-breathing hellish chief-in-command himself took care of these recordings. I mentioned the variation in speed, but I can't express it too much, so I'll repeat it once again: great variation in speed! No, seriously, the permanent interaction in between pounding Doom-parts and energetic up-tempo structures (including, as said before, lots of blasting eruptions) is quasi impeccable. That in addition with the more sober yet highly suffocative parts of tranquillity (cf. the acoustic excerpts, or Ambient-laden pieces, like in Whispers Of Aeon towards the end [also with fan-tas-tic drum patterns!]) makes this journey enormously adventurous. And what with the interplay with the hypnotic tremolo leads, like in To Carry Myself To The Grave, coming with hints of Funereal Black Metal.
With exception of the acoustic instrumental track Ascending The Throne, each composition lasts in between eight and twelve minutes, and that too is appreciable. It is not only because of the cohesive relationship in between the songs only, nor the grandiose production, nor the professional craftsmanship itself, nor … It's just everything that fits, the outcome of hard work resulting in multi-dimensional, gargantuan and epic creations, because that is what each title stands for! I think this album is even better than its predecessor, and it must be one of the albums of the year. If I would co-operate on an end year's list, Aeon Unveils The Thrones Of Decay was part of the top-three for sure!