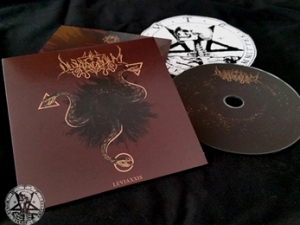 Sven 'Unhold' Zimper's World Terror Committee aka W.T.C. Productions is about to become one of the strongest labels from German soil, with tens of great releases this year. As a teaser for Dysangelium's upcoming debut full length, W.T.C. release this German band's second demo, Leviaxxis, which consists of three tracks, all of them clocking around four minutes.
'Til Only The Sky Is Left, Obelisk Of The Sevencrowned Son and Chaomega stand for fast and furious Black Metal, clearly rooted within the European tradition, but I think it is inspired by the Swedish, French or Polish school rather than the German one. The stuff is played with no room for mercy or peace, but that's just the only correct way to perform such technical, somewhat Post-Black inspired Blast / Black nastiness.
Think early Watain, Merrimack, Deathspell Omega, Blaze Of Perdition, Ascension or Funeral Mist. Look out for the upcoming album!