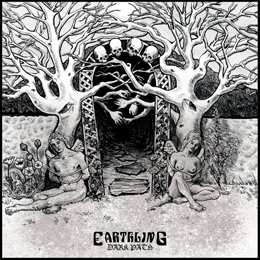 Earthling are a young act from Richmond, Virginia, U.S.Aha, formed by guitarist / singer Alan Fary and drummer Brently Hilliard. Together with guitar player Praveen Chhetri and bassist Jordan Brunk, the quartet recorded some demonstrational material as well as a split-7"EP (with Valkyrie, another band Alan is involved with as guitar player). A short while ago, the musicians entered the studio with engineer Garret Morris (Cough, Parasytic, Windhand, Bastard Sapling) to record the debut full length Dark Path, which got mastered by Mikey Allred (Across Tundras, Hellbender, Inter Arma). In mean time, Earthling signed to Forcefield Records, and this co-operation resulted in the (international) release of the band's debut album.
The six songs on Dark Path last for just over half an hour and come with one keyword: energetics! Damn, this stuff is so powerful and straight-forward; it sounds like a bulldozer on drift. More specifically, Earthling combines details from different genres: groovy Thrash Metal, sludgy Rock, pounding Death Metal, melodic Doom-Death Metal and blackened Crust, with a both technical and primal-traditional performance. The speed too varies a lot: from slowly dooming over mid-tempo to fierce, and the musical structures vary in between melodic, rhythmic and punky. Indeed, Dark Path is a mayhemic hybrid with extremity as middle-name.
Note about the sound: the production is rough and harsh, but little too dull as well, unfortunately.