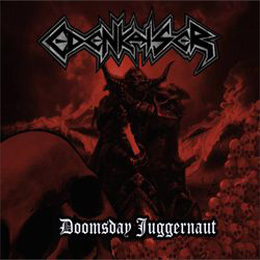 Doomsday Juggernaut was the first official release by Catalonian act Edenkaiser, originally self-released on February 7th 2014. I wrote a review back then, which was uploaded on May 8th 2014. But apparently this material has been re-issued on both CD and tape. Since Cold Raw Records did offer us their edition, I will re-consider my initial thoughts, which weren't that positive (yet with a modest optimism).
The quartet, including female 'singer' Lianne Krossburner (she's involved with Itnuveth too, by the way), had this material recorded at La Universal Studio with Uri Sonoro at the helm. The album, including the introduction Obsidian, lasts for just over seventeen minutes and consists of five tracks. Doomsday Juggernaut opens with an intro based on atmospheric and little desolate guitar lines, including raven's cries, but it's as from Enter Mephisto on that Edenkaiser show their core business. And actually, I don't really get why I was so disappointed the first time. No, I am not going to say that this is the best record I've heard in years, because it is not (at all). But actually, the simplistic and primal approach is quite enjoyable. Yes, the sound quality totally sucks, but the intensions, and intensity, are quite all right. There's even quite some hints of epic (cf. the majestuous [ever heard about this description? Now you do…] melodic riffing in Inner Kingdom), and pretty cool acoustic intermezzi (the very same track I just mentioned is a perfect example – just ignore the ridiculous sounds of storm winds). There is nothing wrong either with the variation, for each single piece has something different to offer. I mentioned the epic approach of Inner Kingdom, but what to think about the thrashing attitude of A Jewel In My Skull or Kill For The Crown, for example…
The last time I gave this act the benefit of doubt, and I am even more convinced. Their next effort will be a smasher; just think about a decent production and more conviction in execution, guys and girl! And forgive me my former review, for I was too severe, apparently.