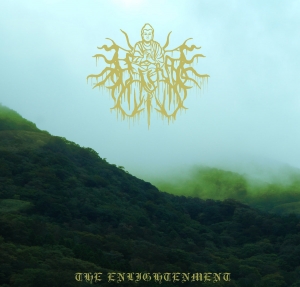 Efferat are a young act from the East of the States (Ohio and Philadelphia), consisting of the brothers David and Nick Brake (they took care of mix and mastering too for this release), and drummer Chris Drossis. Together with some other session musicians, they recorded this strange material in order to have it released on CD in early spring 2015. Burn Ward Records now bring out this stuff on cassette, though being extremely limited, i.e. in an edition of ten (10) copies only (and some are gone in mean time, so you must hurry up!), once again pressed on recycled tapes. I'd like to invite you to check out the reviews for lo-fi Black Metal project Aegorton and Noise-project Skeletal [this one being an outfit of label owner Jordan, by the way] too, posted on the site on December 22nd and December 27th 2015 respectively) in order to get known this Canadian label somewhat better.
The Enlightenment consists of four very lengthy compositions, varying from eight to twenty five minutes. The journey opens with Akiu Ōtaki Falls (8:24), which starts quite bizarre (yet intriguing): mesmerizing synth loops, noisy sounds, bells and what more; it's like an occult ritual being prepared in a hidden cloister. After about three minutes, guitar noises and weird, distant voices join in. Step by step the composition evolves, including scarifying and misty samples and noises, building up towards a breath-taking climax. Døden Er Ingenting For Oss takes off even more impressive: ritual melodies soon get raped by distorted guitar sounds and discordant percussion patterns, somewhat searching a balance in between Abruptum and Gnaw Their Tongues (damn, I'm feeling horny…). Here too the cacophonous approach prevails on any form of visionary structure (though, visionary it is!), and the subtlety of the finale, focusing on atmosphere rather than destruction, is a highlight for sure. The third piece, called Krila Nerodenog Pauze S Neba, comes closer to the whole Underground Black Metal community, though still seen from a mostly Noise-laden point of interest. The lo-fi approach gets strengthened by a muddy production, and this might be way too disturbing, I think; especially within this specific track I get that negative feeling (but then again, creating negative feelings, isn't that the aim???). At about half of this song, the whole atmosphere suddenly turns into a desolate and melancholic soundscape, as an introduction, in an almost perverted manner, for another outburst of blistering sonics. But actually everything has just begun, for the fourth and last piece, Bakasur, defines the true raison d'être of Efferat. This very lengthy piece (Bakasur clocks twenty five minutes) opens with some ritual chants (evidently modestly supported by noisy background sounds), soon joined by, indeed, didgeridoo (!) and bells. It's not the first time that I must think about Tibetan monks or (Oriental) shamanistic ceremonies in one way or another, but one cannot ignore the influence from traditional rituals, taken from the aural side, at all. Bakasur, seen its length, sort of consists of many chapters (of course covering one single totality), mixing those atmospheric rituals with blasting Black eruptions (more than before, some pieces are truly devastating and apocalyptic; did I mention Gnaw Their Tongues and Abruptum before???). The injection of different samples (there are even birds passing by!), the use of Oriental sounds (sitar???), the ambient atmospheres, …, it's all part of one huge journey that twists and confuses man's brain.
Actually, I did truly enjoy The Enlightenment, and each time I listen to it, there sort of appears a new element I wasn't aware of before. But beware, for the chaotic approach can be extremely irritating, and personally I dislike the inferior sound quality. But if these guys can work on those elements, I am sure their next efferat, eh, I mean, their next effort will be a monster of a recording. For now we'll have to do with this four-tracker, but you might be surprised!