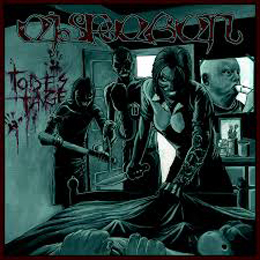 Release Date:
Friday, November 15, 2013
It wasn't quite the case during the early years of this band, but since about a decade, I find it quite an exciting experience to listen to new material by German act Eisregen. I couldn't really enjoy the first albums they did, but as from half of the 2000's, they do draw my attention, for the material became much more interesting. The band comes close, in mean time, to its twentieth anniversary, and with Todestage, they deliver their tenth album. Once again, it will be delivered via one of Germany's most impressive labels, Massacre Records (Eisregen joined Massacre Records' roster at the very beginning of this new millennium, after Last Episode was put on hold), and once again the whole had been engineered and produced at the Klangschmiede E Studio with Markus Stock (who is known as well for his studio assistance for bands like Marienbad, Bethlehem, Midnattsol, Dornenreich, Ahab a.m.m.). A couple of these bands Markus did some engineering work for, are acts where some of the Eisregen-members are involved with too, by the way (Bethlehem, Marienbad); and they are colleagues in Ewigheim as well, by the way… The newest album by the latter, called Nachruf, was released as well via Massacre, and you can find the excellent (haha) review done by undersigned on this fabulous site's January 6th 2014-update.
Todestage clocks fifty five minutes and stands for an ultimately perfected symbiosis of almost everything the band did before. The album opens with Waldgott, which reminds me a lot to the first album of Nox Mortis, at least instrumentally. When it comes to the vocals, Michael 'Blutkehle' Roth is so specific and unique, going for both his vocal timbre as well as his pronunciation. The album comes with lots of variation, yet immer with a characteristic approach. Some songs are fast and blasting (a track like Höllenfahrt exhales a certain Nordic-influenced nastiness), others completely slowed-down and oppressive. Some get close to ballad-alike sweetness (it is a cynical description, for poppy emotions are subject to irony and sarcasm, evidently), while others are obscure and oppressive like abyssal nihilism. Todestage is much like jewels like Rostrot or the band's Eisblut-side-project, but once again, and more than once, it gets much further in different aspects. And the production, well, what can I add? It's just gloriously fitting to the Dark Metal hymns for being pretty polished yet not too clean.
Oh yes, the album features guest assistance by nobody else but Martin Schirenc (Pungent Stench, Hollenthon, Kreugweg Ost, Zombie Inc., Mudbreed etc.).