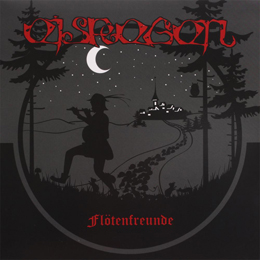 Earlier this year we (the Concreteweb headquarters) did receive the latest full length by German Dark Metal act Eisregen, called Todestage (the album was initially released at the very end of last year, for your information). Since that review (see update February 13th 2014), as well as the review for another project the members are involved with (Ewigheim; review on Nachruf was posted on January 6th) do contain lots of additional info concerning the members involved and the band's history / discography, I'd like to refer to these updates.
This new record is a mini-one with five songs (new and 'forgotten' ones, as well as a demo-track, having a total running time of twenty one minutes), and two video clips. Once again, it has been recorded, mixed and produced by Markus Stock at the famous Klangschmiede E Studio.  Flötenfreunde opens with Rotes Meer, a catchy and melodic yet rather oppressive Dark Metal track with eerie keyboard lines, gothic atmospheres, harsh riffs, a pushing-pounding rhythm section, excellent grunts and the necessary variation in structures. …truly a nice composition to start with. Tausendschweiner is rather poppy, and the end of the song is so weird (once again, it's a trademark of this band) with its crazy vocals and chilly flutes. Blut Saufen is another unusual song with a mostly crazy, psychotic undertone. It contains electronic sounds that remind me to the German Electro-scene, with Seelenkrank or Mortal Constraint coming to mind. Mordlust is the bleakest and most blackish track (apparently written years ago), and my personal favourite, and Tot / Untot too is pretty intense and heavy. The latter is the demo version of the track, yet it certainly comes with a splendid quality.
It is another weird experience, this Flötenfreunde-EP, but those who are trusted with Eisregen's weird compositions won't be surprised for they will know what to come. Whether you like it or not, that's up to you. I think it is an adventure once again!