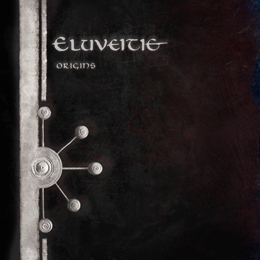 Origins is the sixth full length album by Swiss top-act Eluveitie, a band that does not necessarily needs any introduction. This newest album, available two years after the highly acclaimed Helvetios, was recorded at New Sound Studio with producer Tommy Vetterli (of Kreator- & Coroner-fame) with some new members. The stuff lasts for fifty seven minutes and deals with Celtic mythology in general, and aetiological tales from Gaul more specifically (dixit frontman / founding member Chrigel Glanzmann).
What do you want me to tell? Those who are trusted with Eluveitie's stuff (the main material, for they did some 'different' things too in the past – which I did not dislike, but that's another story) know what to expect. Origins just shows that this band is still growing, still building on past experiences and trying to exceed these efforts. It can be seen the positive and the negative way. Not that pretty (= the negative way) is the catchy, almost sweetened approach (note: this does not count for every track!), with even a couple of poppy injections, predictable constructions, or easy structures. But I do not think that this side of the game is decisive. I can make abstraction of this evolution, for this band's influence on the scene cannot just be ignored. But songs like The Call Of The Mountains, well, what the f***? I can't stand this radio-oriented sh*t and I'm disappointed that Eluveitie follows those trends (under pressure of major Nuclear Blast?). When focusing on the positive elements, I can sum up quite a list on details. Of course the production is huge once again. And what about the simple fact that this band created such lengthy album (wouldn't it be easier to write and compose just a handful of songs, or divide this material into two different releases). I mean that the commercial predominance did not beat the band's raison d'être. Nice too is the always-growing variation, with the expansion of influences, and the trespassing of limiting borders. And so on, and so on.
I will stop this review for there is too much to add, and nothing at all too. You might know what is to come, don't you. If you never liked this band's material, you will not be converted this time. But if you can appreciate Eluveitie's former material, then you will surely adore this new effort. Personally I think it is one of the best things this Swiss act did in years (only Evocation I … was much better, but that album can't be compared at all for being simply magnificent). Enjoy!