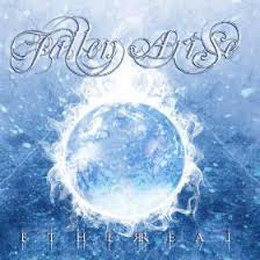 Release Date:
Friday, November 22, 2013
The idea for this Greek Symphonic Metal band was spawned in 2009, when guitarist Frangiskos and keyboardist Gus Dibelas (then already also in Power Metal act Secret Illusion, and since 2010 also active in Wolfcry) got together to write a couple of songs. The idea being that there would be both male and female vocals in the lead role, brought about the recruitment of Evelyn and Jon Soti (now also of Melodic/ Progressive Rock/ Metal band Floating Worlds, and since 2012 also live singer for Melodic Power Metal act The Silent Rage), and to complete the line-up entered drummer Renos and session bassist Dimitris. In December of their formation year, the band did its debut gig in their hometown of Athens.
2010 started off with a line-up change, as Renos left to be replaced by current drummer Thanos...but not before Chris Stratigos of Sorrowful Angels and Secret Illusion repute fell in on two shows, which also found session bassist Nick (then just about to leave Wolfcry, where he played the keyboards – funny detail, Gus would replace Nick in that band) joining in. At the same time as Thanos's joining (April), bassist Maria entered the fold, and the twosome got rehearsed just in time for the band's most important gig up to that point, namely as support slot for Xandria, in May. In the summer of that same year, this line-up entered the studio with Dion Chistodoulatos to record its 4-track debut EP (the December 2010 self-released Eternal), and did another great gig, playing at the Golden Apple Festival. What with the EP just released, 2011 started very strong for FA, what with a release party being played (in February!) and the EP getting praise from fans and critics (including the Greek Metal Hammer rating it 8/10, and also good reviews coming from the rest of Europe) alike.
Prior to planned recordings during Summer 2011 the band still plays at the Rock 'n' Aid Festival (with Innerwish at top of the bill)...and eventually separate themselves from Evelyn shortly before recordings were to start, due to the fact that her philosophies clashed with that of the other members! While the band is already in the studio making a start of recording the music, auditions start for a new female singer, and for a while there, one Milagros Caceres Diaz was considered, actually got into rehearsals and all...but eventually things simply did not work out, and so the collaboration was ended. And that's the moment when the male singer decides it's time for him to leave as well! Recordings, done at Devasounz Studios with Fotis Benardo and Christos Antoniou (respectively drummer and guitarist of Symphonic Death Metal band SepticFlesh) and Thimios Krikos (of Power Metal act Innerwish), continue into 2012, and early that year Spyla is added to the line-up as female singer. In September the band also gets a chance (which they knew about since April prior) to play a support slot for Moonspell (a gig done with one of the try-out male singers FA had back then). 2013 comes along, and the band starts shopping around its album. Then, halfway the year, current bassist Aggelos Mal steps in, as Maria leaves the band for personal reasons. Also, after a year and a half of temporary replacements, the band welcomes new male vocalist Christos Kontoulis into the band's fold.
But...that's not whom we have on the album here, as male vocals are still performed by Jon Soti...whom we shall therefore consider a "guest" singer here. Other guests on the album were Benardo himself (whom not only took care of part of the recording, but also of the subsequent mixing and mastering, and put in a guitar solo in the track "Under The Bliss Of The Sun"), Panos Spanos (his actual name, no matter how funny the rhyme sounds; played with Thrash Metal band Suicidal Angels from 2009 to 2012, and brings a guitar solo to the song "Eternity"), Sotiris Pappas (played guitar with Gothic/ Doom Metal act Scar Of The Sun in 2009 and 2010, and brings a solo to the album closing "Fly To Horizon"), and Tomas Goldney (guitarist of Melodic Metal band Bare Infinity, but here he brings the narrated spoken word intro of "My Fall"). A word of praise needs to go to Antoniou, whom took care of orchestral arrangements on 4 of the 6 tracks (including the short instrumental "Furor") in which they occur. More praise goes to the well-written & executed songs, and even more praise goes to the vocal performances. Now...let's hop Kontoulis is at least as good as Soti was, because the latter really puts down a grand performance in the more excited songs (there's also a piano ballad solo for Spyla, and the album closing track starts off with a ballad part for the male singer – which does nót showcase the man from his best side; his higher region of singing however, is truly soaring).
For your introduction to the album...or rather, your chance to listen to it in its entirety without having to go out to the records shop...check the "Music" section of (www.) facebook.com/fallenarise, which actually connects to the album's Bandcamp page (and so there's also an opportunity to compare the new material to that on the EP). Well, I'm keeping my rating of the album moderate, awaiting a more accurate representation of the band as it would sound on stage at the moment (new male singer, you know!).