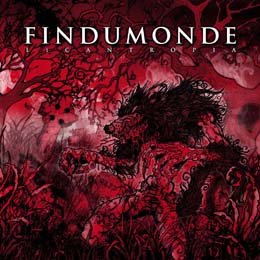 Death Metal from Argentina, it's a love-it-or-hate-it relationship, at least for me. In this case: 'love it'!
The material was released in early 2012 through Cumpa Records in the band's home country, as well as the rest of South America, but now it has been made available in our countries as well.
Findumonde, French for 'end of the world'; their debut Licantropia, bringing very groovy and modern, yet at the same time especially nineties-inspired Death Metal, including subtle hints from Thrash and Black Metal and Hardcore, picking up elements from both North and South America, in order to apply a short yet wonderful masterwork with a grandiose sound quality and a fabulous performance. No originality; it's all about a wonderful finalisation. One of the best Death Metal things I've heard in 2012, certainly when it comes to a debut!
Horns up! Highly recommended!