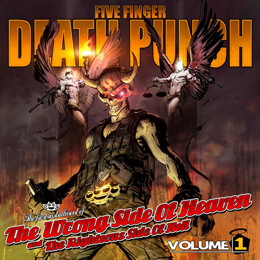 Album Title:
The Wrong Side Of Heaven and The Righteous Side Of Hell
Lately, tons of people have been worrying about the future of hard rock and metal. Some think it's on the verge of extinction because of a lack of big names within the genre. They realize that the 'golden oldies' will one day have to be replaced with other major headliner-worthy names. However, these people should not fear, because with Five Finger Death Punch, we have one of these names! Take some Slipknot, add some Killswitch Engage and even some Metallica and what you get is the perfect sound that these American guys produce. It's beyond massive!
Since the band had too much material, they simply decided to release two albums under (more or less) the same title: The Wrong Side Of Heaven and The Righteous Side Of Hell. A brilliant move if you ask me!
On both records we are treated with the finest metal I've heard in a while. It sounds more than just impressive and most importantly, it sounds real! Five Finger Death Punch stands for quality, both in their music as in the message they carry across.
Adding duets with artists such as Rob Halford (Judas Priest), Maria Brink (In This Moment) and Jamey Jasta (Hatebreed), they just bring in the finishing touch that leads to perfection.
Songs like Lift Me Up, Watch You Bleed, Wrecking Ball (oh hell yeah!) and Battle Born are just some tracks that will immediately merciless grasp you by the throat.
Get these albums while they're still hot! Fans of any genre will be amazed by Five Finger Death Punch!