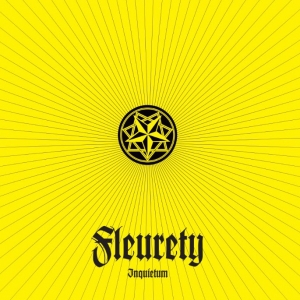 Release Date:
Wednesday, August 23, 2017
Fleurety might not be that well-known, I think, but the members are quite notorious names within the (Norwegian) Metal scene. The band was formed in 1991 (!) by Svein Egil Hatlevik (drums and vocals, and additional synths) and Alexander Nordgaren (electric and acoustic guitars, bass). The first one is or was also involved with diverse bands, such as Dødsheimgard, Umoral, Stagnant Waters, Strid (since last year) and many more. The latter used to be in defunct I Left The Planet, and he used to be part of the live line-up for Mayhem a couple of centuries ago. During the Nineties, Fleurety recorded and released some demos, EP's and two full lengths, but then things went silent. Officially they did not break up, but it took until 2009 to hear from them again. Then, over a period of almost a decade, they recorded four vinyl EP's, all of them gently blessed with a title in Latin. And in 2017, Peaceville Records came up with a new full length, entitled The White Death.
Throughout the years, the duo has been assisted by some other well-known names from the Norwegian scene, both live as in the studio, known from bands like Dødsheimgard, Mayhem, Ved Buens Ende, I Left The Planet, Aura Noir and so on.
Anyway, this review deals with a compilation, called Inquietum. It collects those 7" recordings, which were, all of them, released via (one of my favourite) label(s) from the United Kingdom, Aesthetic Death. They came out each time in an edition of 666 copies in a special series, especially for the label involved (though it was not the first vinyl-release on Aesthetic Death). All of them, by the way, were mastered at the Priory Recording Studio by Esoteric's Greg Chandler, who's no stranger to Aesthetic Death at all.
The first two tracks are taken from the oldest of those EP's, Ingentes Atque Decorii Vexilliferi Apokalypsis, originally released in Autumn 2009 on white vinyl. The original recordings were done in 2004-2005, but it took until now before they got released for a first time. Descent Into Darkness was recorded by Alexander (guitar) (originally created on the 1993-demo Black Snow) with the assistance of Mayhem members Hellhammer and Necrobutcher (drums and bass respectively), and the vocals were 'sung', haha, by Runhild G. of Thorr's Hammer-fame. It's an ugly, filthy track with an industrial sound, noisy and chaotic, and therefor relevant for this band's existence. It starts in a doomy way, with somewhat hypnotic guitar riffs and those hysterical screams of Runhild, and after almost two minutes everything speeds up enormously. After a semi-progressive break somewhere half of the track, everything turns towards a thrashing piece with an epic and victorious attitude. Choir is a short intermezzo, a collage of sounds, samples and excerpts, and it reminds me of some of the more experimental Noise artists from the U.S., Russia or France. Absence was written and performed by both Alexander (g) and Svein (v), originally created for the first Blackend sampler (from 1995). This time it got recorded with additional help of Audiopain / Virus bass player Petter and Bjeima (d; ex Delirium Bound, Yurei, Alfa Obscura etc.). Svein's voice sounds forced, but that fits to the mechanical-industrial thrashing rhythm outburst. The lo-fi piece is much more thrashy and necrotic in sound, with cool, enthralling riffs and fine bass lines.
The second EP comes next. Evoco Bestias was recorded in very early 2008 with assistance of I Left The Planet singer Ayna Beate Johansen and drummer Andreas Barsleth. The grey vinyl EP brought two pieces, the first with Ayna's vocals, the second one with hers, as well as Svein's gurgling throat. There is a cool contrast in between the necrotic guitar sound at the one hand, and the clean, rich-of-timbre voice of Ayna at the other. The doomish piece Summon The Beasts (which is the translation of the Latin title of the EP) has several injections of Punk-laden energy and thrashing frenzy, but still it represents the eccentric vision of Fleurety for sure. Animal Of The City then again is much more blackened and diabolical than any former 'song'.
Et Spiritus Meus Semper Sub Sanguinantibus Stellis Habitabit was the third EP in this series, recorded in 2009-2010 and released in Summer 2013. It firstly consists of the track Degenerate Machine, which was recorded with former Arcturus member Carl August Tidemann (also in God Of Atheists or Winds) on lead guitars, Filip Roshauw on bass (he used to be part of the live line-up for Virus), and including drums performed by Einz (think: Virus, Ved Buens Ende etc.). Degenerate Machine shows a melodious side of Fleurety, with punkish / crusty (harmony) vocals and an energetic rhythm section, heavily supporting the fine tremolo riffs / leads, and a huge dose of progressive experimentation (cf. the final sequence, for example). It's When You're cold, then again, is not that different, with some session singers and Vincent Wagner on drums. Here too the avantgarde approach gets maintained. Dissonant leads and discordant riffing disturb the 'normality', and the demonic voice strengthens the uncomfortable atmosphere, especially when joined by those spooky synths (a couple of excerpts). Fabulous outro, by the way!
The last two songs on this compilation were originally released as Fragmenta Cuiusvis Aetatis Contemporaneae in very early 2017. The strangest thing was (and still is) that this EP was an instrumental one, and quite different from the past. Okay, eccentricity and experiment have always been part of this band's image, but with this 7", Fleurety open their sonic spectrum. Consensus has a lot of electronic and industrial injections at the beginning, before the composition turns into a melodious Stoner-injected Doom-epic with a psychedelic edge. There's even a jazzy chapter with an exotic atmosphere within the second half, soon followed by a frenzy, schizoid Post-Avantgarde experiment, including, once again, electronic and industrialised elements and a distant yet remarkable kinetic piano melody. Carnal Nations, finally, opens quite intimate, melancholic and integer, like some Post-Rock tribute. The drums, by the way, on this track, are performed by Øyvind Myrvoll, whom you might know from Nidingr (oh, I like this band…), or his live assistance for, for example, Dødsheimgard, Myrkur or God Seed. Anyway, it is a spacelike, desolate piece, this Carnal Nations, with fine bass work, great drum patterns once in a while, drenched in a post-modern sound.