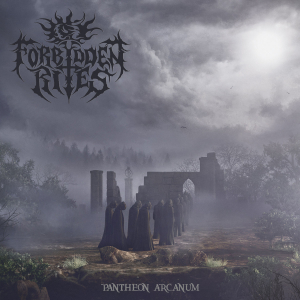 Release Date:
Thursday, November 8, 2018
Forbidden Rites are a young band from Mexico, consisting of guitar players Juan Carlos Martinez and Raul Campos, drummer Hugo Olivos (formerly in Inhearted and Hatevomit, and currently part of Vomitile), and vocalist / bassist Vlad Marin (guitar player in Xiuhtecuhtli). This quartet recorded their debut Pantheon Arcanum at the Mexican Sound Village Records Studio in early 2018, except for the drum parts, which were recorded in Cyprus (because Hugo recently moved over to this Mediterranean island). The mix too was done in Mexico, also at the Toluca-based Sound Village Records Studio with Emilio Garcia, with the mastering being courtesy of Andy Classen at his legendary Stage One Studio.
For the release of this album, Forbidden Rites signed to GrimmDistribution, which releases this album in an edition of 500 copies on 'regular' jewel case compact disc. It comes with a sober eight-page booklet, which includes the lyrics (in English). And FYI, but the sober yet fine artwork and layout were done by Riaj Gragoth of Luciferium War Graphics. And that cover artwork immediately refers to the secret and occult ceremonies of ancient (and not that ancient) cults and institutes, where forbidden rites were practised.
Pantheon Arcanum consists of nine chapters, having a total running time of forty-two minutes. What they bring is not exactly renewing; on the contrary, it is clear that this band focused on the Swedish scene to find inspiration. But hey, there is nothing wrong with that, of course.
Forbidden Rites' Black Metal is fast, melodic and rhythmic for sure. The main part is guitar oriented, with twin / tremolo leads as spine. These guitar leads have a 'traditional', or at least a timeless character, i.e. an attitude akin the Nineties. Attention: I mentioned the Swedish scene, which means that with 'Nineties' I do not refer the Nordic scene (rather Norwegian in nature). And this goes for both song writing / execution as well as the sound.
Anyway, the better part, as said, is quite fast and enormously energetic. But the speed (and basic structure of each single composition) differs a lot. The changes in tempo reappear the whole of the time, including a couple of decelerations too, although these slower parts are rare and limited. All this gets supported by a very firm, coherent rhythm section, being supportive and clearly audible rhythm and bass guitar parts, and thunderous, rumbling drums and cymbals. And I need to mention the vocals, of course, for these ones are so brutal, so intense, so beastly. Don't expect shrieking screams or sulphurous yells, but deep, malignant blackened growls.
Very few acoustics are used, but when so, like in the last sequence of Judgement or the introduction for Now That The Moon Illuminates The Remains, you just feel that they do fit to this adventurous play. Okay, there is a catchiness represented once more, yet still it works. No exaggeration, just brought in with eye for detail and equilibrium in the whole sonic package. The rather short yet beautiful outro Arcane Initiation, with gloomy, mesmerizing violin and cello, goes even further, creating an atmosphere so deep, enthralling, captivating.
The sound quality is extremely decent, with a well-balanced mix and a professional production. Purely personal – my own opinion, and not necessary the ultimate truth (yet since I am the reviewer, I can write whatever I want, of course) – I think it strengthens the catchy approach. There is a modest rawness, but I would have preferred little more unpolished roughness and rehearsing spontaneity. But hey, that isn't but a minor detail, for actually the sound quality is very professional for sure.
In any case, if you can appreciate stuff à la Mörk Gryning, Vinterland, Unanimated, Dissection, Midvinter, Naglfar or Sacramentum, you know what to do: to order this soundtrack for mankind's defeat!
https://grimmdistribution.bandcamp.com/album/030gd-forbidden-rites-pantheon-arcanum-2018
http://satanath.com/distro/item/030gd
http://www.luciferiumwargraphics.com/