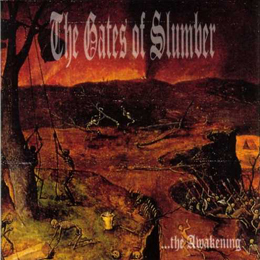 Release Date:
Tuesday, November 13, 2012
The Gates Of Slumber is a doom metal band from Indianapolis, USA. Their band name is taken from the Cianide song "Gates of Slumber" from the album A Descent Into Hell.
The Gates Of Slumber's 2004 debut is one of the band's albums to receive a much-deserved reissue. The most obvious influences that come into play are Saint Vitus and Manilla Road. Just listen to that guitar tone reminiscent of the mighty Dave Chandler. For a debut, The Awakening is a very strong offering, greatly hinting at what the band was to become with ensuing releases. The debut basically defines all that The Gates of Slumber stands for to this day, and features some real classics "The judge" and "The burial". Additionally to the 7 original songs we also get 1 bonus song "The cloacked figure", which automatically let you unroll your prayer carpet!!!
If you don't already have the original, then it's an album worth checking out.