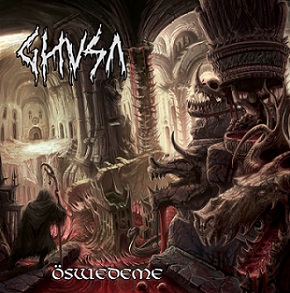 Welcome on the Viking Ghost Ship tribute to the Gods of Death Metal bands…
I was sort of catapulted into the world of extreme (Death / Thrash / Black / Doom / Speed / …) Metal during the second half of the Eighties (damn, I'm getting old…). I will not go to deep into the matter, to avoid a mental-melancholic breakdown (for I'm getting old indeed), but the contemporary scene would not be so impressive and well-evolved without the grandiose things that happened back then in, for example, Sweden. Let's be honest: the scenes in several Swedish cities and areas have deeply created the basement, the structure of a certain, deeply-rooted 'popularity' that remains. Okay, the U.S., Germany, Holland and many more countries are of undeniable importance too, but Sweden… Malmö, Gothenburg, Stockholm, Eskilstuna, and so on; there was a hugely vivid scene out there, putting its stamp on the future.
Throughout the years, Death Metal permanently evolved, but many bands kept on playing that old styled thing. Many (Swedish) bands from that era have never left their path (hail to them, and f*ck those who betrayed their roots when getting mainstream, looking for popularity and attention – the sound of money overruling the sound of 'true' Metal), and quite some new bands (both Swedish and international) do not want to play anything else but that what they consider as their main influence. And now I'll introduce you to French act ghUSa.
Actually – but I must admit that I did not know them either – ghUSa were formed in 1989 (!) by L. Chuck D., and named after some abbreviation for 'god hates us all'. The first years were not that successful, and a first period of total silence destroyed ghUSa's ambitious plans. There was a first 'resurrection' at the beginning of this century, but once again everything seemed to fade away into oblivion. But I do not think the band ever officially split up. So, L. Chuck D. and French label Great Dane Records (still alive and kicking) compiled the past's anthology under a 2-disc format in 2015, and with a partly renewed line-up, L. Chuck D. had the second ghUSa full length album recorded, about 11 ½ years after the debut Letter To My Son\'(s) (self-released in very early 2006).
Öswedeme consists of ten tracks and gets released by the young label White Square Records. The release gets heavily supported by the open-minded team of Dooweet Agency (for sure one of the most prominent labels lately to support the French Metal / Rock / Alternative scene). The material was engineered, mixed and mastered at the Jipouille De St Loup's Studio, and the title, Öswedeme, is the word-play taken from 'Old Swedish Death Metal'. That's why my introduction about the Swedish scene in combination with a French act was of importance as representation for this review. Thank you for your attention (smiley…)…
Öswedeme starts in an intriguing way, with a cool instrumental piece (28 Days Later) as introduction for H, a track that uncovers this project's adoration for the Old School. It's an approach of the more melodic roots, rather than the grinding skull-crushing one – though skulls get crushed mercilessly for sure. Of course, and I think it is quite logical, the album lacks of originality. But hey, this is a tribute to the past, so it means that being renewing would be stupid. As I stated in tens of other reviews, the lack of originality does not bother (at least, that's the case for me) as long as the result equals, or trespasses, the original scene. Well, in this album's case, I think it presents a lot to support my opinion.
It starts with the sound quality. It's heavy, it's fat, it's powerful. It lacks clinical over-production. It maintains a specific rawness. There is a nice balance, a fine mix / mastering, showing a perfect equilibrium for all instruments involved. It is correct… Nothing more to add…
The song writing too is acceptable. Okay, I'm going to be honest: there are no killer tracks, anthems-in-spe, on this album. But there are no fake fillers either, nor irritating or disappointing songs either. Actually, this just is a fine album to listen to. There is quite some variation in the structure of the melodies (sometimes guitar-oriented crafted, then again filthier and heavier, or rather epic and warlike), as well as in speed (energetic the whole of the time, yet with several excessive parts, as well as a couple of decelerations). The material is injected with some groovier parts, some Thrash-edged excerpts, and even some hints of Doom-Death. And still ghUSa succeed to play with a pure coherence. Besides, the play is done very professional, showing a convinced craftsmanship. The uncompromising guitar leads and fiery solos are played with fury and a carefully skilled attitude. Also, the rhythm section (bass and rhythm guitars + drums) is powerful, nicely supportive to the basic song structures. The main grunts sound as if they come from the most acid-like depth of the belly, being deeply growling yet still understandable. That's a fine aspect. At the same time, they do not totally overrule the instrumental section, although the vocals take a leading role. On top of it, there are a few blackened shouts and screams, strengthening the obscure aspects, and some experimental try-outs (though limited), without pathetic exaggeration.
Öswedeme for sure is not the best Death Metal album ever. It is not a classic-to-be. But Öswedeme is a convinced tribute to the late Eighties, especially focusing on the Swedish scene, including great material at the one hand, and an honest approach at the other. Every single piece is enjoyable, reminding the listener of the greatness of the past decades. Therefor it is a recommendation for fans of, well, let's say Nihilist, At The Gates, Edge Of Sanity, Hypocrisy, Unleashed, Centinex and the likes… …or even Bolt Thrower, Benediction, the earlier scene from the Netherlands, whatever…
The past gives us a future…