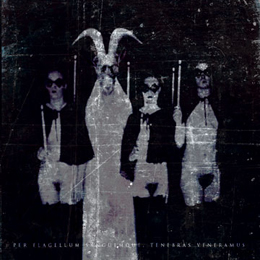 Album Title:
Per Flagellum Sanguemque, Tenebras Veneramus
One of Holland's most active personalities when it comes to the darkest shades of noisy noises is Maurice 'Mories', the guy behind Gnaw Their Tongues. The grimmest souls amongst us might know this sweet guy from acts like Aderlating, Cauteror / Soulwound, Seirom, De Magia Veterum, Astral, Cloak Of Altering and many more.
As Gnaw Their Tongues (once formed as Dimlit Hate Cellar), Mories recorded and released more than twenty records; my personal fave to date must be 2010's L'Arrivée de la Terne Mort Triomphante (review still available on the site; see update November 26th 2010), albeit difficult to choose a favourite, if only it was of importance to do so.
Per Flagellum Sanguemque, Tenebras Veneramus was originally released in 2011 through Crucial Blast (recorded in 2010 and 2011 at the Drachten, Holland based The Bejaarde studio), but ConSouling Sounds is about to re-release this material in a limited double 12" vinyl-edition in gatefold sleeve. Limited, with an even more limited edition that includes an exclusive CD-r!
So let's talk about this album itself right now. Those who are trusted with (some of) the works created by Mories know, more or less, what to expect, even though Per Flagellum Sanguemque, Tenebras Veneramus does slightly differ (again) from any past effort. …again. …even though all fans of obscure and darkened / perverse Noise will still have an orgasm when listening to etc… Please just follow the instructions…
The album brings an apocalyptic form of abyssal, chaotic and post-nuclear Black-edged Industro-Noise, drenched in shock-waves of doomy and ritual orchestrations, horrific terrifications, cathartic suffocations and blaspheme extremities. On top of this frenzy sweetness, you might add grinding, funereal and psycho-ambient distortion, perverse cacophonies and hysterically droning atmospheres into the cinematic, Horror-laden, sadistic complexity of Total Chaos and Destruction. Sounds lovely, not? And what about the injection of instruments like violin or trumpet, the Abruptum-esque schizophrenia, the specifically chosen sample-excerpts from (underground / cult) movies, and even Wagnerian grotesqueries (cf. the title track)?