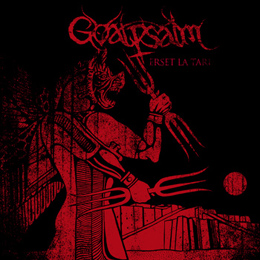 Release Date:
Tuesday, February 24, 2015
Stu, the guy behind Aesthetic Death, knows how to make me happy. Just send me the second album of Russia's trio Goatpsalm and I start smiling (the sardonic way, evidently)!
Erset La Tari is the follow-up of Sonic Desterilization Of Light (Assavlt Records), recorded by a very experienced trio, i.e. Horth 'Baal Shaggashtu' (ex-Moriturus / Karna, [Coldstrain], Pestilentia and Sickrites), Morkh 'Baal Utukku' (think: Sickrites, ex-Invoked, ex-Izakaron), and Sadist 'Baal Shadu' (known from e.g. ChristInvertion, Deathmoor, Alienation Cold, SS-18, Lashblood etc.). The album deals with the mythology of the glorious empires of the Middle East a long time ago (Mesopotamian, Assyrian and Babylonian history), and it consists of three lengthy compositions, which have a total running time of forty five minutes.
The album opens with Utuk-Xul, which opens with a sample of winds or sea shore waves, slowly transforming into a creepy Drone / Doom ambience with both a melancholic attitude, as well as a terrific one. Floating noises, dissonant rhythm guitar lines, mesmerizing synths, psychedelic leads and evil chants join forces, creating a mostly oppressive, suffocative and elusive sonic landscape of bleak occultism and grim mysticism. It's not Black Metal, it's not Death Industrial, it's not Dark Ambient, and it's an amalgam of all of them at the same time. As from the second half of the track (this opening composition clocks just over twenty minutes), some tribal drumming color up the colorless experience too from time to time, strengthening the hypnotic, psychedelic and occult aural session. It stays minimal and minimalistic, yet also demonic and ritual, focusing rather on atmosphere than on melody – yet then again, this kind of Sonic Satisfaction needs atmosphere rather than technical structures, does it not. Next comes Bab-Illu, which is the only 'short' piece (five minutes and some seconds), and which differs from both other pieces on Erset La Tari. In general it is based on acoustic melodies with a Middle-eastern atmosphere (Absu, Melechesh, Al-Namrood, Nile – you know what I'm talking about, without the 'Metal' things); it's strange to notice this piece on this album, yet believe me is I say that it mesmerizes! Under The Trident Of Ramanu clocks almost twenty minutes and opens very minimal and nihilistic, like the opening song does. But after about three minutes, this composition transforms into a funereal Doom/Death/Black piece, based on pounding riffs, sulfuric voices and hypnotic melodies. Towards half of the track, psychedelic disturbance and psychotic discordance dissonantly disrupt the aural party, and mostly bleak, evil noises interrupt the pleasure of pain in order to create even more painful sonic experiences. The whole turns into a pure Abruptum-esque worship, narking your eardrums with contradictory and mental discomfort. And so this piece evolves, leaving the listener confused, both satisfied and unsatisfied (de-satisfied, if this would exist), but don't we all crave for dissatisfaction in such case? I do, and I am!
Imagine a mixture of Valefor, Archon Satani, Nordvargr, Melek-Tha, Black Depths Gray Waves or MZ.412, with hints of Lurker Of Chalice, Shaarimoth, Gnaw Their Tongues, Abruptum and Woods Of Belial, and even then you are not even close to what this trio brings with Erset La Tari. But believe me, once again, if I say that this is a highly recommendable piece of Dark Noise!