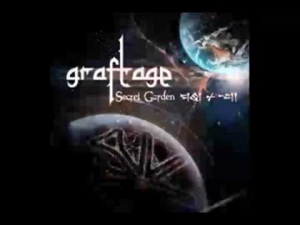 Release Date:
Monday, February 24, 2014
Graftage are an Italian duo (drummer Giovanni 'Jo' Bragie and vocalist / bassist / keyboardist / guitarist Stefano 'Batti Blackheart' Battistuz) from the city of Varese, who started in 2011. This album, Secret Garden, is their first studio effort, and it includes lyrics in both their mother tongue and English (though all titles are in English, and so is the band's moniker, but don't let this mislead you). The result is a fifty four minutes long journey through dark and heavy atmospheres.
The album starts with a weird intro (Enuma Elish), first little cosmic-chaotic, then turning into atmospheric-symphonic dimensions, yet pretty apart because of the many underlying details. Smoothly it introduces As Gods, which is the longest track with its length of almost nine minutes. As Gods is a mid-tempo and pounding Black Metal hymn, very melodic in approach, rather than being technical, and filled with lots of breaks, changes in tempo and structure, and with great keyboard lines and acoustic passages. It's not that unusual for an Italian band to create this specific approach / sound, but it does not always work. In this band's case, however, it does. I think that this song is a monument on its own, with all diversity and creativity organically put together. There are even hints of Funereal / Gothic influences, yet once again: it fits, and it sounds organic and natural. For the better part of this album, this direction counts too. Secret Garden brings melodic and modern (Black) Metal with attention for melody and variation, rhythm and power, varying in tempo and structure, yet without forgetting to focus on cohesion and coherence. Almost each single composition is an experience, if only because of the changes in the different related aspects, though some are more impressive than others. A few excerpts (and then I am referring to some of the shorter and faster pieces on Secret Garden) sound too mechanical / forced / overdone, and I know that Graftage are a modern band, but the progressive details are rather annoying than a surplus, I think. Yes, the 'I think'-thing reflects nothing but undersigned's personal opinion, so you do not need to agree with me. But do not ignore this warning. A track like Dead And Empty for example is quite irritating, to my opinion – funny and joyful, but WTF?! Especially the second half of the album is much more avant-garde oriented, with more progressive song structures, experimentation (also vocally), and increased modernism.
At this moment, I am not convinced about this result. But seen the intentions and ideas, I am sure Graftage might have the opportunity to impress. Once again I will request the benefit of doubt, for now…