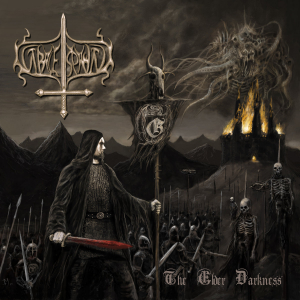 The solo-outfit Gravespawn has a rich biography. I won't go too deep into the matter, but it's an interesting fact that this project was formed in South Korea by an American soldier, while serving for his national army in the far East of Asia. We're talking about the earlier years of this century. Things went quite tranquil, and it wasn't until the year 2010 and the next ones, to grow 'bigger' as studio-act. As from then on, throughout the years, Gravespawn did release several recordings (full-lengths, EP's and splits with e.g. Indesiderium, Vesterian or Wormreich).
Reaver, the master-brain behind Gravespawn, did record this third (or fourth?; depending on what you call 'EP' or 'full-length') full-length under the Gravespawn-moniker in 2019/2020, performing the vocals, the strings and the synths. He got assisted by Baalgrath on drums / percussions, and long-time collaborator Advorsus doing some additional work on bass and electric guitar. Once again, the result got mastered by Kult Of Azazel's Julian 'Xaphan' Hollowell aka Xes. The physical release is a jewel-case compact disc with an eight-page booklet, pressed in an edition of 500 copies. This one comes with the peaceful lyrics, as well as stunning (cover) artwork by Spanish visual artist Igor 'Mugi' Mugerza (who did fine cover-artwork as well for the likes of Elffor, Xerión, Briargh or Strappado, amongst many others).
The Elder Darkness is a nine-track album, based on a fragment of their track Possessed Rites (from Re-forged In The Malice Of Stygian Fire) when it comes to the title, including a very fine cover-track (see later), which clocks fifty-two minutes. For the better part it goes on in the vein of the past. The album brings an old-styled form of Epic Black Metal, you know, deeply inspired by the so-called Second Wave, that glorious era from three decades ago. It does breathe an atmosphere reminiscent of the 'Nordic'-styled approach, but one cannot consider this effort like some copycat from the Norwegian scene just like that. In some way, despite the very recognizable song-writing, Gravespawn tries to inject its self-invented uniqueness. And this works for sure.
An important element is the frequent use of keyboards. Actually, it does remind me a lot of Satyricon's earliest Moonfog years (Dark Medieval Times era), that combination of pounding and energetic, somewhat victorious and combative Black Metal with the well-balanced support of atmospheric, even ambient synth-lines. But as said, it is not just some cheap copy-paste thing, for Gravespawn create heroic and bloodred landscapes with an own twist.
The material is pretty fast in general, mainly seeking equilibrium in between up-tempo and forcefully speed-up. A couple of times, the whole erupts into blasting proportions – especially brutalized and molested by the fierce drum patterns – then again quite some excerpts decelerate towards slower passages, which, however, never get rid of their intensity and strength. Intensity and strength, nonetheless, go beyond purest aggression, for this recording expresses an in-depth elegance too, which focuses on a majestic atmosphere rather than terrifying ear-destruction. For some reason, Gravespawn even succeed to turn their version of Die By The Sword (Slayer indeed) into monumental proportions: uncompromising and intolerant, yet still whimsical and slightly histrionic in nature.
Including a professional productions / mix / mastering, The Elder Darkness impresses as well for sounding so organically coherent too. This goes for the natural balance in between the different hymns at the one hand, yet it gets caused too by the well-thought studio duties. With pride it reflects the unpolished greatness of, well, let's say, a studio like Grieghallen. Especially the tone of the strings and the pissed-off screams refer to that typifying sound 'of Old'. At the same time, the modern techniques from the present offer a perfected interplay of all voices and instruments, both leads and rhythmic ones.
Smoothly interacting with the victorious, somewhat pagan-laden atmosphere, comes the ingenious technical execution – not exaggerated at all, yet revealing hints of hidden subtleties and modestly well-crafted details. I did mention the fabulous drum section, grim throat and gloomy keyboards, but the not-that-fragile bass-lines or the practical leads and solos, or the addition of some semi-hypnotic acoustic passages unfold competent techniques and methods.
https://gravespawn.bandcamp.com/album/the-elder-darkness
https://satanath.bandcamp.com/album/sat280-gravespawn-the-elder-darkness-2020
http://satanath.com/releases/item/sat280
https://www.concreteweb.be/reviews/gravespawn