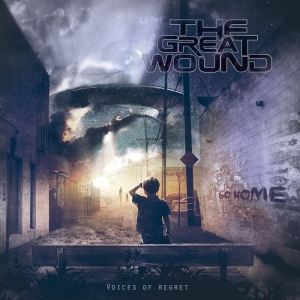 Release Date:
Thursday, February 25, 2016
A quick one, but too interesting not to review: Voices Of Regret, the debut of The Great Wound. It's a new outfit by Basque musicians Tristan Iniguez (ex-Darkness By Oath) and Ekaitz Garmendia (ex-Legen Beltza, Extinction). They did record (+ mix & master) this debut at the Auryn Studios (also in the Basque Country), and it lasts for forty-five minutes.
Blood Fire Death, Erzsebet and so on… I am dreaming of my favourite countess right now…
…but since this writing deals with a recording, I have to focus on other things than my all-time fave' queen Elisabeth… So, what about this album? Well, actually, Voices Of Regret stands for quite a catchy yet highly attractive Epic Death / Black Metal phenomenon, focusing on the tradition of the global scene. Melodious riffing and energetic rhythms compose some sort of universal Death / Black universe, and there's nothing to fuzz…
Actually, in essence, Voices Of Regret totally lacks of an own face, of originality, of whatever. But believe me if I say that the result of this recording is above average. It does not sound at all like Vesania's debut, but for sure I am experiencing an equally-fabulous travel.
I wanted to keep this review short and simple, as said within the first paragraph. So, here it is. The Great Wound is one of those many bands that try to get through the masses. Since the result of this album seems to be quite great, I surely think they deserve to sort of breakthrough. At least, I think that The Great Wound have something that might impress – 'Dissection – Naglfar – Old Man's Child – Belphegor – Behemoth – Hypocrisy – Amon Amarth - Unleashed' was an impression I got by means of the biography, and I will surely not go in anti-reaction… But there's more – and less at the same time. But anyway, every follower of melodious and epic Black (and Death) Metal will surely recognize the grandiose intentions of this Basque formation, and if this might be an omen to any upcoming full album, I will surely be prepared to 'and so on'… Fast(er) excerpts go hand in hand with more 'comfortable' pieces -why not- that search for a balance in between the heavier side of the modern Black / Death scene and, eh, the heavier side… No, seriously, with Voices Of Regret we're stuck into modernised tradition, executed within a crafted manner and so on… Especially guitar-oriented, with grandiose dual / duelling riffage, every hymn comes with a heroic flair, sometimes even dwelling towards the glory of 'bombast'!
The production is fantastic, with a superb sound as result. Simple like that… Also through the symphonic intermezzos, this statement gets confirmed…
I said I would keep it short this time. I guess I've said it all. Believe me if I say that this album has so much to offer; it really does and it will not disappoint 'fans' of heroic melodies, whether their rooted within the blackened or the deadly soil.