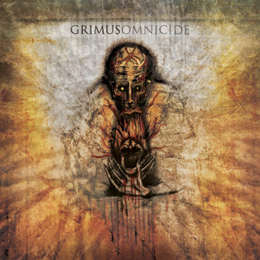 Grimus (named after a novel by Mister S. Rushdie 'question mark'…) are a (Latino-Iberian) quintet (vocalist Bryan Martinez, drummer JP Andrade, guitar players Marco Bobadilla and Michael Munoz, and bass player / singer Michael Goncalves) from New Jersey, U.SSS.A. In 2009, Grimus recorded and self-released the positively accepted and reviewed EP Gutter Earth, and this album, Omnicide, is the band's official full length studio debut. The material was recorded at Crimson Recording (production and mix by guitarist Marco, by the way), and the mastering was taken care of at West West Side Music by the famous Music Master Alan Douches (think: Nile, Mastodon, Aborted, Job For A Cowboy, Cannibal Corpse, Blood Tsunami and tens of others).
Omnicide has duration of thirty six minutes and brings rather conventional and traditional US-based Death Metal with a strong technical craftsmanship. It's not a modern-progressive album, but it holds the middle in between modernism (sound and some specific structural outputs) and basic traditions. Sometimes it grooves, then again it blasts, but in any case it is an aural testament of mankind's sick nature, which is bloodthirsty, egocentric, egoistic and just stupid. Collective suicide of a brainless era, one of my preferred subjects, normally done by my dearest Black Metal purists, but also perfectly translated into lyrical and musical naughtiness by this act, Grimus, through thunderous eardrum-hammers like I Destroyer, Draped In Fear, Within Isolation, Cradled By Misfortune, Without Master etc.
For fans of: Morbid Angel, Bloodbath, Krisiun, Nile and Beneath The Massacre.