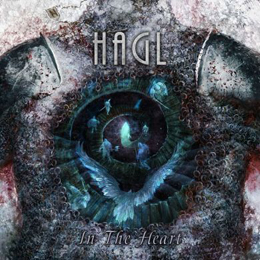 Russian warriors Hagl were once formed as Darkomen and about a decade ago, they changed their moniker into the current one. Throughout the years, the band recorded two albums (Nearer To Victory, 2005, and Irminsul, 2008), but in both cases it took many years before being able to release this stuff (respectively 2010 and 2011). This time, however, things aren't turning the slowest way.
In The Heart was recorded last year (2012) but 'already' sees the darkest light through Casus Belli Musica. And in the vein of many projects from the former Soviet Union, this one too combines rather traditional Black Metal with elements from Pagan / Folk at the one hand, and symphonics, even though very limited and modest in this band's case, at the other.
After the intro, Heavy Gale brings fast and rhythmic, slightly thrashing and melodic Black-edged fury with epic melodies in the vein of the German and, especially, Scandinavian scene. It's 'Nordic', yet then again not purely Norwegian, if you want to. The varying song also includes an acoustic passage and folksy melodies that bring the Ukrainian and Baltic scenes to mind as well, and more than once (and this goes for a couple of other moments too, like The North a.o.) some specific riffs (i.e. the sound) remind me enormously to early Desaster (!). For sure this song is one of the highlights of the album! The better part of the album continues this way: fast and energetic power-hymns with traditional melodies and epic guitar lines, interacting in between furious outbursts and victorious melancholy, interspersed with a couple of acoustic intermezzos and deathrashing glory.