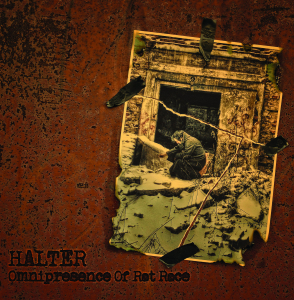 Release Date:
Tuesday, October 20, 2020
Recently I same in touch with Alexey 'Curche' Pyshkin, a member of the crew behind Wroth Emitter Productions. That Russian label was formed almost three decades ago, releasing demos of (cult) acts like Scald or Crrombid Traxorm, but somehow they did remain in mist, veil and underground.
Anyway, Alexey plays in some bands too, amongst which Halter. I once wrote a review for The Abandoned (2015), but that was before the new Concreteweb thing. Let's say that it ended in an equilibrium of unsatisfied hunger (I was craving for something distinctive) and of appeased satisfaction (what I got to eat, however, was still quite tasteful for sure).
But let's focus on the next level. Wroth Emitter Productions is now about to re-release the debut full length of Halter, Omnipresence Of Rat Race, which was initially released via MFL Records aka Moscow Funeral League in very early Spring 2013, combined with the limited and independently released 2014-EP Post Factum (which 'shared' a couple of tracks with the full-length). It is actually a limited physical re-edition, available via two hundred jewel-case copies (which include an eight-page booklet) and one hundred ones released as four-panel digipack. And it does include a great and quite lengthy bonus track, by the way, which wasn't part of the original release. It can be considered a prequel on their newest album, 2020's The Principles Of Human Being.
Both Omnipresence Of Rat Race and Post Factum were recorded by Alexey (vocals) and his brother Dmitriy 'Mid' Pyshkin (rhythm guitars), drummer Ivan 'Vaness' Sukhanovskiy, Igor Rusakov (lead and rhythm guitars) and Vadim 'Wad' Uglanov (bass guitars). It consists of eight lengthy tracks, having a total running time of about seventy minutes. It's a manifest against society, a message of disgust and hatred, mocking mankind's stupidity, ignorance, arrogance, corruption, terrorism and brainless consumerism. We are all rats in a race, led by evil beings, laughing with our pathetic and ridiculous existence.
From sonic point, Halter brings (brought) an own-faced form of 'traditional' Doom-Death Metal; with 'own-faced' I am referring to their open-minded song-writing. The old-schooled Doom-Death Metal approach is like the spine, yet the whole gets injected by elements from e.g. Sludge, Stoned and even Funeral Doom. It lacks any form of modernism, nor are there any exaggerated progressive or contemporary experiments. The foundations are built around 'orthodox' craftsmanship, inspired by the early Nineties especially: a deep-grunting throat, characteristic tremolo riffing (more than once, the earlier years of My Dying Bride do come to mind) and dueling leads, a heavily pounding drum-section; that is to say, the basic approach is clearly inspired by the origin of the scene.
Yet still this recording easily distinguishes itself from the grey masses. The main guitar riffs aren't always that 'common', with quite some extravagant hooks (listen, for instance, to these extraordinary structures in Wintry Day, a track that also includes a spacelike and mind-twisting solo, for example) and breaks, a couple of Stoner-laden melodies, down-tuned, sludgy rhythms, and shrieking yet crafted dual solo-work (cf. a piece like Graves Are Not Full). The very same goes for some moony bass-lines, like in Autumn Night, having a semi-funky sound. Also the addition of some samples, like Arabic (religious) chants (cf. above-mentioned Graves Are Not Full), vocal samples, foot-steps, sirens (Zone Of Alienation), singing birds etc., is something that characterizes this unique act.
A quick word about the bonus-track: a reworked version of Zone Of Alienation, without the Russian-spoken vocal samples in the beginning (spoken samples do still appear towards the end), enormously heavier in sound, and almost memorable through the inherent mydyingbride'ish execution and the overpowering dynamism.
The combination of a traditional approach in combination with self-invented creativity might need some endurance and persuasion. However, Halter are able to smoothly and organically combine these extremes, and the result might surprise, if only you dare to experience this material with an open-minded vision. As said, don't be afraid to consider this material as 'eccentric' or 'eclectic'; I'd rather like to call it 'inventive' and 'opinionated'.
https://halter2009.bandcamp.com/album/omnipresence-of-rat-race-2020-reissue-2
https://www.concreteweb.be/reviews/halter