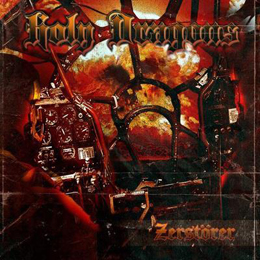 Holy Dragons band was created on the 11th of September in 1992 and till 1997 existed under the name Axcess in Almaty, Kazakhstan.  In those beginning days of Holy Dragons, they were situated at Metal of the 80-ties and this influence still remains the main principal of the band. The main stylistic direction of the band is in the vein of the traditional German Heavy Metal, including the influence of Speed, Power, Techno-Thrash and other branches of Classic Metal.
The first full-length album was recorded in 1998 (Dragon Steel). Since 2003 the band was signed by the label "Metalism Records". And in November last year they brought forth Zerstörer under Pitch Black Records.
Well, this is a 50/50 record. I love the 80's heavy metal, and instrumentally this really sounds awesome, but for some reason the vocals don't sound to appealing to me. It's definitely not the style or technique, but the actual sound of the singer. apart from that this is one good metal album.