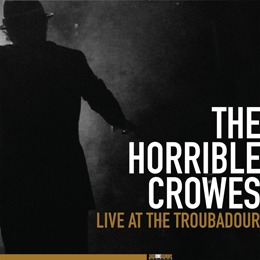 Release Date:
Tuesday, September 24, 2013
Oh my, talk about milking out successful events! In late 2010, Brian Fallon (lead singer/ guitarist of The Gaslight Anthem) and his guitar tech Ian Perkins got together to write songs together for a side-project of theirs, which he announced as concentrating "...on the dark side of soul music...". In essence, they were writing some singer-songwriter songs with somewhat darker lyrics, and the two headed to a studio to record a total of 12 original songs.
A preview on the album came on June 21, 2011, with the song "Black Betty And The Moon" being posted on YouTube. The complete album, entitled Elsie, was streamed in its entirety through Rolling Stone on September 1, the physical release in the US following 5 days later. The somewhat different sound from his main band was explained by Fallon as follows, "As much as I have this fantasy in the Gaslight Anthem of being Bruce Springsteen, I also have this fantasy of being Tom Waits or Greg Dulli...these songs are very dark; they're like hymns for lonely people, it's really a trip through a breakdown and that decent into madness and hopefully redemption...". Two singles (with appending video clips) would eventually be culled for the album, "Behold The Hurricane" being released that same year, "Ladykiller" in 2012. Just for fun, the guys, supported some friends to fill in on keyboards, bass and drums, actually did two shows, the latter happening on September 14, 2011. A show which was recorded on video.
So, this is the soundtrack of that evening, which turned out to be prom night in Los Angeles! The guys went through the complete track-list of the album, in that same order, with the addition of the songs "Teenage Dream", and encore cover song "Never Tear Us Apart" (a Rock 'n' Roll classic). In between the songs, Fallon makes easy banter with the girls and dudes, whom were behaving like adolescents rather than as young adults, the girls screaming their heads off almost hysterically, the guys throwing rhetoric comments back to Fallon (you know, they just wanted him to play, and keep his yap shut in between songs, so they could grab their girls and continue to dance, or something of such sort!). Anyway, as I said, commercial milking...this album will also be available on DVD, albeit without those two "extra" songs. No idea what else is on the DVD, as we simply did not get that info! Meanwhile, if you were there, this may well be a nice reminder of an extraordinary night (because hey...from the crowd response it can be ascertained that the audience truly hàd a good night...perhaps beyond the concert, as so often goes with prom nights, you know?). People who already have the studio album should consider seriously whether they want the same songs...in live versions, granted...all over again!