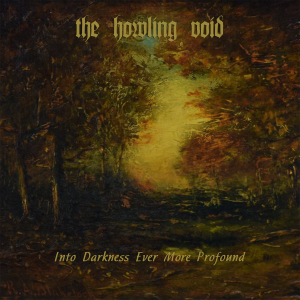 Album Title:
Into Darkness Ever More Profound
Just like the tides ebb and flow, the fire will die, and all will be cold, the sun will be gray, dim, and low…
It is like a present for their fifteenth anniversary, for The Howling Void finished their eighth (full) length only recently. Thank you, Ryan!
No, seriously, Ryan Wilson did start this outfit in 2007 or so. You might recognize his name as well from bands / projects like Pneuma Hagion, Seven Headed Serpent, Crowhurst, Excantation and tens of others. As The Howling Void, Ryan recorded two hands full of releases, amongst which also the splits with e.g. France's Nyss, or Excantation, which Ryan 'runs' together with Shane Elwell (they both share other projects, like Pneuma Hagion, as well).
Into Darkness Ever More Profound strongly goes on, and further, in the vein of 2019's Bleak And Everlasting (Avantgarde Music), which undersigned did adore profoundly. Once again it narrates about Death from its most romantic and fair side, focusing on The Other Side as a righteous, relieving opposite of life and its harsh, unbearable and painful aspects. No, I am not talking about any suicidal promotion, yet rather about, and I will quote, 'a slow walk down extremely dark paths, meditating all the while on the peace and beauty associated with the cessation of life and all of its noise and absurdity'.
This concept gets expressed sonically through a dreamlike, sugar-sweet form of Funeral Doom Metal. But hey, I do not mean this disrespectfully, for that sweetness and dreamy reference I made has nothing to do with some false-glamorous enchantment or any fake loveliness. No, the whole is drenched in a bleak, darkened and hazy nebula of coldness, despair and affliction.
From audible point of admittance, the main structure is based on strings and synths in the first place, enriched with the growling vocals and mind-blowing percussions. Each piece has been created around mesmerizing and floating keyboard melodies, passing by, slowly, like waves of magic, wonder and transcendence. These beautiful synth-lines are like the surface of a mystic ocean, which hides yet also reveals visions of relief and acquiescence. This goes harmoniously hand in hand with a rich palette of four- and six-string support, with down-tuned basses, droning riffages, hypnotic tremolo leads, captivating twin soloing, and organic lead melodies; the latter being moony, enthralling, then again capturing. The fine balance in between both chimerical, then again somewhat bombastic synths at the one hand, and both supportive and prominent guitar-driven structures at the other hand, works naturally well. The simply excellent production and mix, on top of it, fortifies this grandiose equilibrium in sound.
Of course, this does not work without the impressive drum-assistance. In the vein of the elementary Funeral Doom grandeur, these percussion efforts (chimes and bells included) are essential. The ultra-slow beats sharpen the overwhelming atmosphere, and expand the immeasurable vastness of this majestic aural symphony. Not once the percussion fades away in exaggeration or boredom; on the contrary, each strike, beat and hit recites its own part of the tale.
Also typifying for this specific genre, yet once again of a superb level, are the morose vocals. That voice is the most perfected channel to express the poetic content, for the lyrics are as in-depth and magnificent as they are short and concise. How I long for that darkness, far away from where time can not reach, where form cannot take root, where the motion of being must cease… Ryan's grunt, even-though quite limitedly used, is of a most abyssal nature, with that low-pitched and profoundly growling timbre, being primordial in essence, wretched in execution, chaste in expression.
For the release of Into Darkness Ever More Profound, The Howling Void signed to the small yet excellent Armenian (Doom-oriented) label Funere, run by the sympathetic woman Jane Orpheus. The four-track release comes in a regular jewel-case compact-disc edition (three hundred copies were printed), including a four-page booklet, with fine lay-out / artwork done by R. A. Blakelock, under supervision of the nice lady behind the label. The album consists of four lengthy compositions, having a total running time of three quarters of an hour.
https://funere.bandcamp.com/album/into-darkness-ever-more-profound
https://thehowlingvoid.bandcamp.com/album/into-darkness-ever-more-profound