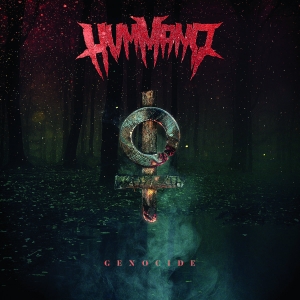 No gods, no masters!
Two years after their debut full length album We Hate You All!!! (don't you worry, I hate you too, but that's my pleasure…), Hummano return with their sophomore full length album, once again via the strong and convincing Barcelona-based label Blood Fire Death (hail Quorthon!). This Madrid-based quintet (drummer Adrián Arteche, grunter Sito Shutter, guitarists Alfon Valladolid and Fer Díez (*), and bass player Pablo Fernández) did record this twelve-tracker once again at The Metal Factory Studios with technical assistance of Alex Cappa (production, engineering, mix and mastering).
(*) frontman and founding member Fer did co-produce this album, like he did in the past, and he took care of the cover artwork too – FYI.
Genocide has a length of about forty minutes and opens with a short yet quite intriguing intro, Def Con Three (yes, after 'one' and 'two' comes 'three'…). It's like an introduction to a nasty experience to follow, and indeed it is. As from Black Mirrors you'll notice that nastiness. Genocide is a collection of Deathcore / Death Metal epics that exceed normality. Every single composition is like a unique thing to undergo, dwelling in spheres of industrialised post-modernism, cosmic-apocalyptic evilness, anti-human religion and aural paranoia. It's a prophecy of doom, a grinding evocation, a message to mankind focusing on the futility of our existence. And Hummano's message is clear: there is no escape! There are no gods, there are no masters, and we'll be doomed…
…feeling happy too?...
Actually, the crazy f*ckheads called Hummano do still combine massive, monolithic rhythm passages with subtle yet sublime melodic structures throughout the whole album. Eruptional-fast excerpts interact well with slower ones, yet both of them created in an equilibrium that shows craftsmanship, professionalism and joy-of-play. Of course it's exaggerated, for the colossal and monumental totality hits like a skull-crushing sledgehammer. Yet still these guys succeed to focus on a certain aural elegance, teasing and pleasing the listener throughout the whole sonic journey.
In comparison to the former release(s), Genocide sounds little more devastating and persuasive, adding some more depth, and being performed with more, well, like a focus on atmosphere rather than extremity. No, this does not mean, and I repeat: this does NOT mean (!), that the band weakened in their mostly brutal approach. But there's more focus on content and concept. I for myself, for what it's worth, do agree, and pledge welcome! At the same time, the band slowly evolves towards Americanised prediction, if compared to the chaotic harshness of We Hate You All!!! or the Is The Shit EP (also released, by the way, via Blood Fire Death). I do not want to say that Genocide has become a predictable album, but it's less experimental than before.
But in any case the album is mostly attractive in case you like the semi-intolerable discomfort and masochistic eardrum devastation of, let's say, Whitechapel or Thy Art Is Murder, and even Days Of Betrayal, Job For A Cowboy, Deep In Hate, Despised Icon, Suicide Silence and the likes; then you will appreciate the intensity and power of this album for sure.
No gods, no masters!