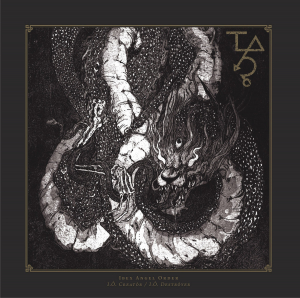 Album Title:
I.Ô. Creatôr / I.Ô. Destrôyer
Release Date:
Saturday, October 12, 2019
Ibex Angel Order once started as Sauron in 1997, then went on as a duo named Funeral Goat – we're talking about the unholy year 2008 – and as from 2014 on, Ludas (aka LDS ;drums) and Herr AIDS (here as HRRDS; vocals and strings) continued under their current moniker. And just for your information, but both of them are involved with Abysmal Darkening as well. They have an interesting curriculum vitae, with a couple of highly interesting recordings (I once wrote some reviews for their Sauron adventure), but I sort of lost them somewhere; and as Ibex Angel Order, this release is like a virginal experience to me.
Under their current name, they had one full length before, which was called I (Daemon Worship Productions, 2015). Also, the duo contributed on the Ekstrophë split (Terratur Possessions, 2018) (which I will have to search after soon!), but my first acquaintance is this mini-album, I.Ô. Creatôr / I.Ô. Destrôyer, released by The Netherlands' finest Heidens Hart Records ('heidens hart' is Dutch for 'pagan heart'). The EP got released on both cassette and vinyl (10"), along with the digital option, being limited when it comes to the physical copies. The stuff was recorded et the Double Noise Studio in their home country and consists of new studio material and a live registration as bonus (that bonus material, by the way, is not included on the tape edition). It includes the lyrics and comes with refined artwork courtesy of Cold Poison.
---------------------------------
The tracks I.Ô. Creatôr (05:28) and I.Ô. Destrôyer (04:17) bring a very nasty and filthy form of vile, furious and fast-paced Black Metal with a timeless character. There is a weird hypnosis going on, caused by some bizarre elements especially, like trippy riffs, additional noises, invocative spells and hymnic passages. And that is somehow unique, for this band organically mixes quite traditional and universal elements with a very own, twisted approach.
As said, the basement is fast and energetic for sure. The drum patterns, for example, strengthen that violent and barbaric attitude. But Ibex Angel Order inject their sonic terror with decelerating, slowed-down passages too, which do uplift the mesmerizing atmosphere that characterises both pieces. As a whole, this diptych brings a mostly peculiar mixture of pan-European Second Wave Black Fury War Metal (no, I am not kidding, maybe just somewhat exaggerating) and an own-faced, transcendental and limitations-trespassing form of occult and ritual Post Pagan Black Metal (yeah, it could be an existing genre…).
---------------------------------
The bonus tracks, on the vinyl EP, are divided into two chapters. First you have two live tracks, Abraxas Rises To Be Crowned and Domedon Doxomedon, recorded in 2015 at the festival Veneration Of The Dead. They are actually quite cool when talking about the sound quality. Okay, it's clear that these compositions have not been recorded in an official studio, with professional mix and mastering, yet it is impressing to notice the agreeable sound quality for sure. Besides, the performance itself shows the many years of experience these guys do have. The execution is about flawless, and even the unaccustomed vocals do fit so ingeniously. This is great, thankful bonus material for sure!
The third bonus track is a remastered version of Funeral Goat's Calling Forth The Storm, initially released on the Mass Ov Perversion album (Daemon Worship Productions, 2009). This very short track (clocking just over two minutes) is an extremely obscure, oppressing and buzzing epic, uncompromising and primal in execution, yet rich and powerful in execution. This song too is a worthy bonus song for sure! Thank you, dankjewel…
https://ibexangelorder.bandcamp.com/album/i-creat-r-i-destr-yer-ep
https://heidenshart.bandcamp.com/album/i-creat-r-i-destr-yer
https://terraturpossessions.bandcamp.com/album/i-creat-r-destr-yer-ep