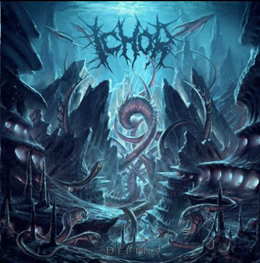 Release Date:
Friday, September 5, 2014
Germany's Ichor did surprise me a lot with their Benthic Horizon-album (in 2010), which made me search for their debut The Siege (which wasn't as strong and convincing as its higher-mentioned successor). Since then, however, the audience couldn't enjoy any new material anymore (though they did play live a lot, including appearances on some notorious festivals). Now the quintet (singer Eric Kuhnen, bassist Tobias Rümmele, drummer Dirk Maurer, and guitar players Johannes Gorges and Daniel Jacobi) returns with their third full length, Depths, having a total running time of forty two minutes. The stuff was recorded once again with the Wieslawski-brothers at the famous Polish Hertz Studio (think: Vader, Behemoth, Azarath, Crionics, Emeth and tens of others), and released, also 'once again', via the 'huge' German label Bastardized Recordings.
Depths goes on, and further, where Benthic Horizon ended, bringing an extremely high-technical form of Blast / Death Metal, coming with a massive modern sound. There are lots of breaks, hooks and tempo-changes, grandiose riffage, a monstrous rhythm section, the addition of sublime tremolo leads, fabulous melodies, and barbarian growls, melted together into a sonic mass that isn't here only to destroy man's eardrums with sardonic pleasure. Masochists be alert!
In comparison to the former material, this sounds even more cohesive, intense, asphyxiating and merciless, with an increased energy (can you imagine) and a more persuasive execution. Every single detail has been written, performed and recorded with eye for detail, focusing on a coherent result – which Ichor once again did achieve. And if there might be a fundamental difference in between this full length and the former stuff, then it will be the atmosphere. Depths is more dense, obscure, haunting and horrific than before, and this too isn't but a fabulous progression.
No matter if you're into the likes of The Black Dahlia Murder, Beneath The Massacre, Necrophagist, Misery Index, The Modern Age Slavery, Fleshgod Apocalypse, The Faceless, Nile or Decapitated; you cannot but adore this brain-smasher called Depths!