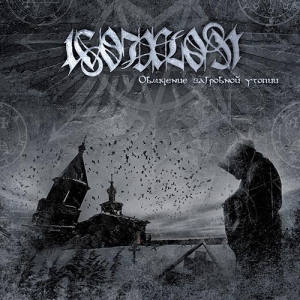 Album Title:
Обличение загробной утопии
When I was looking for some additional information about Iconoclast's past, I found out that this Russian band (yes, this review deals with the 'iconoclast' from Yaroslavl, Russia, and not with one of the hundred other bands with that very same name) was formed in 2003. It is remarkable but this album actually is the first one they did in ten years of existence. But it does not matter, it's just an objective fact that did 'absorb' my attention.
Anyway, that debut, called Обличение загробной утопии, aka Denunciation Of Utopia Beyond The Grave, had been released via Electrica Caelestis (acting under the pagan wings of Casus Belli Musica), and created by four musicians, including Oprich's Vladimir Chepovsky (oh yes, in case you're interested: I recently wrote and updated a review for Oprich's newest recording, Bетра пьяный мёд; check out the upload of April 21st 2016) and Smuta's Alexandr Vikhrev. The album is released in an edition of 500 copies, with a 12-page booklet and in slipcase-form, and the total running time of the eight compositions clocks thirty-seven minutes.
This album is truly a modest monument, and I mean it for I did listen to it several times, and each time it sort of 'grows'. Okay, it certainly has nothing to do with some form of renewing craftsmanship or originality. Iconoclast surely do not reinvent the scene, that's a certainty. But the power at the one hand, and the great song writing (+ performance) at the other are truly remarkable. And so is the sound, by the way. Talking about the latter, well, the production is of a fabulously high level for sure. There is a certain 'clean' aspect, yet not of the over-polished kind. No, it's the grandiose mix and the nice equilibrium of all aspects that are sort of memorable. Performance-wise, Iconoclast combine harsher, somewhat violent outbursts with integer passages, and on top of it the addition of Folk-oriented elements aren't but a surplus. These ones are hearable within several of the melodies, but the band makes use as well of, for example, violin (by dark-haired female warrior Renata). Moreover, these violin lines are quite important, for they lead within several calmer parts (like some intros), but they are present within quite some heavier excerpts as well.
In general, Обличение загробной утопии is quite expressive, offensive, heavy and energetic, with lots of changes in tempo. Some calmer pieces act like perfect counterbalances to the intensity of the War / Pagan-driven eruptions. Besides the faster parts, Iconoclast makes use of quite some slower passages too – which does not necessarily implement a diminution of power, cf. the Doom-Death laden warlike power like in the last hymn. Both speed-up and slowed-down extremes, and both aggressive and integer oppositions, have a specific catchy approach, which I normally try to avoid in order to get away from allergic irritation; however, in Iconoclast's case that catchiness does not bother at all, whether it gets expressed through the goody-goody intermezzi, rhythmic melodies or whatever. No, it seems that this band is able to trespass the borders of 'easy-listening' with 'heaviness', without losing the core of their raison d'être: performing Pagan Pride!