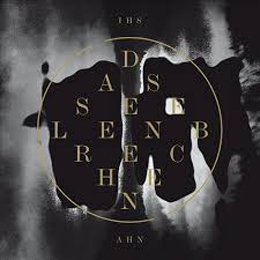 Vegard Sverre Tveitan, aka Ihsahn, is probably mostly known from legendary act Emperor. He is / was also active in splendid projects like Thou Shalt Suffer (damn, I do miss them in every aspect), God Of Atheists, Zyklon-B (another excellent combo, even though… Never mind…), Hardingrock or Xeresia (almost all of them bands or projects I am just crazy about); with his wife Heidi S. 'Ihriel', he's / was active in Star Of Ash or (defunct) Peccatum too. The both of them also run Mnemosyne Records, by the way. Vegard also worked, as session, live or guest musician, with bands / projects like Wongraven (a fabulous Folk / Ambient project by Satyricon's Satyr), Jeff Loomis (formerly of Nevermore), Ulver, Arcturus, Ildjarn, Satyricon or Leprous (the Leprous-line-up, by the way, are the main members of his live-band), and more recently he became part of a new project called Revolution Harmony, which also includes Devin Townsend and Serj Tankian, by the way (!!!).
Under his artist's name Ihsahn, mister Tveitan recorded four well-received studio full albums before: The Adversary (2006), angL (2008), After (2010), and Eremita (2012). All of them brought a rather specific direction of Avant-Garde Metal, yet still with that initial blackish atmosphere he's known for by means of his other (current or former) collaborations. Especially in the beginning, the influences from Emperor could not be ignored at all; then things evolved by adding elements from Hardingrock and Peccatum as well. The music became more and more progressive, and this evolution still goes on with this newest full length (duration: almost fifty minutes).
Das Seelenbrechen is once again a fabulous experience, a weird journey through mesmerizing spheres of Utter Obscurity. The compositions are an amalgam of Ihsahn's previous efforts, mingling avant-garde themes with bleak-blackened grimness, electronised ambiental structures, goth-doomish passages and post-metallic progression. But the album is not just another Prog-record. Those who are trusted with Ihsahn's previous works will understand what I'm referring to. The variation is enormous in every single aspect: instrumentation, vocals, tempo, structures, atmosphere and theme. It's filled with hooks and breaks, a wide range of different emotions, a contrast in between bombast and soberness, or tranquillity versus chaos. Das Seelenbrechen is an artistic expression of extra-ordinarity and uniqueness, going far beyond the 'usual', the 'expected', the 'safe'. The first half, by the way, is mainly based on Prog / Black oriented Metal structures, while the second part is rather Noise / Industrial / Ambient-alike.
I think it is impossible to give a detailed description about this album once more, for the impact is more imminent after a hearing session than when reading about it. And that might be the pitfall of the album. The inherent feeling of a lack of coherence and the far-approached surrealism might be confusing, obfuscating, even abashing, because creativity when it comes to Aural Art might have its limits!
But I think it's masterly! Give it a (couple of) try (tries)! A creation clearly created by a creative creator of creativity…