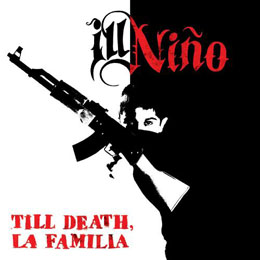 How painful : a Metal band with its first 3 albums (2001's Revolution Revolución, 2003's Confession and 2005's One Nation Underground) out on Roadrunner Records...and there's not even one in my collection, nor any of the albums which followed (2008's Enigma, 2010's Dead New World and 2012's Epidemia), and that with the sales figures of the two first albums already exceeding a million copies! I guess I' have to make some kind of mending, by relating to you the band's history in a nut-shell?
It all started back in 1998, when drummer Dave Chavarri (of Soulfly, Pro-Pain and M.O.D. fame) joined forces with Merauder vocalist Jorge Rosado, guitarist Marc Rizzo, and bassist Christian Machado to found the band under the initial monicker of El Niño, and with the intent to create a "Latino Hardcore" act. In early 1999 however, Rosado was ousted and, his role taken over by Machado, a place was created for Chavarro's childhood friend Lazaro Pina (whom had already played in the bands BloomHelida and Shang Hi-Fi) to enter the band as their bassist. A lucky choice, as the latter also had a studio where, with mixing & production done by Chavarri, the band recorded its self-titled debut EP, which they released in 2000. Meanwhile, the band expanded with the inclusion of rhythm guitarist Jardel Paisante and percussionist Roger Vasquez...and soon after the band changed its name to the current one. With some of the EP's songs receiving heavy rotation on Seton Hall University's WSOU Pirate Radio, and the buzz about the band spreading real fast, a deal was soon inked with Roadrunner Records.
In support of the release of Ill Niño's debut album Revolution Revolución, the band toured for 17 months straight throughout America, Europe, the UK, and Japan...most notably bein' part of the US Road Rage Tour (with headliners Machine Head and Fear Factory) and the traveling festivals Ozzfest and Jägermeister, as well as getting slots at such prestigious festivals as Germany's Rock Am Ring/ Rock Im Park, Spain's Festimad Festival, the UK's Download Festival, Holland's Dynamo Festival, and Belgium's Graspop Metal Meeting. The album eventually sold over 450,000 copies worldwide.
Sales figures which would be improved upon with the second album, which sold 550,000 units, having debuted on the Billboard 200 charts at #37 and including their single "How Can I Live?" which was used in the soundtrack of the movie Freddy Vs. Jason (it also went to #26 on the Mainstream Rock charts). Prior to recordings for that album however, in early 2003, the band parted ways with both Rizzo and Vasquez, replacing them respectively with Ahrue Luster (formerly of Machine Head) and Danny Cauto. Touring was done as headliners this time, first on the Road Rage Tour in Europe, then on a multitude of festival stages in South America, Europe, the UK, Australia, and Japan. A turning point, however, was already on the horizon.
You see, the release of the band's third album, 2005's One Nation Underground, was met with some pretty negative reviews, and the fans reacted accordingly (ach...how fickle can you be, eh?), resulting in the album debuting in the Billboard 200 at the #101 position only. Although the album's first single ("What You Deserve") still made it as no.1 most added track on Active Rock radio, internal changes within the record label's structure around that time eventually led to the band being dropped. Not even ten days after, Ill Niño were signed to the newly founded Cement Shoes Records imprint. Around then the band was also finishing its touring cycle for One Nation Underground, and Jardel, whom expressed a wish to spend more time with his family, was replaced by band friend Daniel Verduzco.
To celebrate the change in the band, Ill Niño first recorded The Under Cover Sessions EP 5I'm uncertain as of when exactly it was released), and that same year Roadrunner, who regarded the album as a mere fulfillment of the band's obligations under the deal that was originally signed, released The Best Of Ill Niño, featuring 13 songs off all of the band's 3 albums with the label, without even asking the band for consent or involvement. Ill Niño's 4th full-length, Enigma, was met with massive support from the fans both in the US and Europe. Still, the band parted ways with Cement Shoes Records in 2009!
Only to sign to Victory Records the year after! Released in late October 2010, Dead New World not only got Ill Niño on headlining tours through Europe, Russia and the US, but also to the main stage of the February-March 2011 Soundwave Festival, where they played in front of a truly enthused sea of fans...and this fan support enticed ESPN to enlist the band to compose a custom track to be played during NFL Latin coverage! Continuing their two-year cycle of recording-releasing-promoting on a regular basis, the band dropped its 6th album Epidemia in October 2012, and followed that up with a tour during which they gave back to some of their fans, honoring US Military personnel with free and 2-for-1 admissions to the shows. In October 2013, the band announced the departure of Daniel Couto, and introduced Oscar Santiago as their new percussionist. For some reason, the "cycle" I just mentioned was shortened somewhat, and so the latest album was dropped 3 months ahead. Throughout the Summer, Ill Niño has therefore been able to participate to the Rockstar Energy Drink Mayhem Festival, where they performed on the Victory Records Stage alongside Avenged Sevenfold, Korn, Cannibal Corpse, Trivium, and many more. What with research time being limited these days, I haven't been able to check past tour dates, but I understand that after the Summer the band started its World Tour 2014...which by now is ended. Only a few dates were listed for early 2015 at the moment I checked.
As per usual, I've searched the Internet for sites with free listening possibilities of the new material, and I have to say that this is limited to the band's facebook page (www.) facebook.com/OfficialIllNino, where you can listen to the album's opening track "Live Like There's No Tomorrow" (ans a couple of songs off older albums). In the "Music" section at (www.) illnino.com, you get a show of all albums by the band, except the last one, with a link to their page at iTunes, who usually provide the opportunity to listen to 30-second samples of all album tracks. Maybe the album's added by now? Of course, if you're enlisted at Spotify you can (hopefully) listen to the complete album there! Expect your usual mixture of chugging riffs with great Latin influences in both the guitar and the percussion, nice clean vocals which occasionally shows some aggression and, overall, songs which encrust themselves in your memorative braincells with quite an ease, in spite of the fact that there's more goin' on than heard at first listening!  In the past, the band's sound has been described as "Latin Metal", "Alternative Metal", "Nu-Metal" and "Metalcore", and the truth is, that each of those descriptions can be applied at one or several passages or songs, for sure!
Great stuff this, and I sure hope the band's previous albums, when I come across one and pick it up for my collection, will prove to be of an equal caliber!