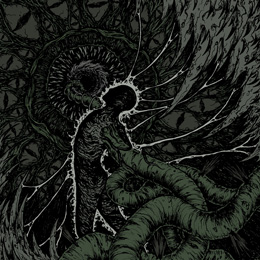 Album Title:
Remnant Spheres Of Spiritual Equilibrium
Remnant Spheres Of Spiritual Equilibrium was originally released in 2012/2013 on tape via Abyssic Commune in an edition of 50 copies only, but Nuclear War Now! Productions did put this stuff on vinyl. And for your information, the original material was remastered by BR (Grave Upheaval / Temple Nightside), and it comes with new cover artwork.
The album consists of four lengthy tracks (lasting in between eight and eleven minutes), and what these Australians bring is not that distinctive from Nuclear War Now! Productions' roster. But those who have a hidden yet passionate relationship with this Californian label will adore this stuff for sure.
Let's focus on the opening track The Summon…, for example. It brings an enormously obscure and ominous, yet utterly slow form of darkened, even blackened Morbid Death Metal, including quite some variation in speed, yet based on rather simplistic and straight-forward melodies and structures. And okay, the mix and production may not be that sublime, but forget about that (at least it's better than the tape-version). I do really like the fabulous melodious essence in combination with the variation – the latter referring to the speed (as mentioned before) as well as the fabulous additions, like that outro on the first track. With excerpts like Subterranean Litany, Ill Omen dwell even deeper into abyssal spheres not yet explored, by focusing on ultra-slow heaviness rather than popular progression / aggression. Aaah, the beauty of primal morbidity… And what to think about the mostly freezing, haunting, ambient, horrific and asphyxiating chords and notes on Elegy Beneath The Abhorrent Name, to my humble opinion the most outstanding piece on this great recording…
For fans of Portal, Ævangelist, The Great Old Ones, Catacombs, The Ruins Of Beverast and the likes!