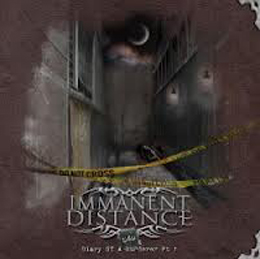 Album Title:
649 – Diary Of A Murderer Pt. 1
This sextet from Kuurne (a suburb North of Kortrijk in the South of West-Flanders, Belgium) came into being following the split-up of the now defunct Death/ Black Metal act Depravity (now no longer in existence), when a couple of its members wanted to move on to a kind of music they felt a greater affinity for, namely a female-fronted Melodic Progressive Metal.
But it wasn't until the arrival of female lead singer Maaike Mahieu that the band [currently also consisting of guitarists Fré Clement (also clean backing vocals) and Niek Vervaeke, keyboardist Bjorn Vandenberghe (also occasional growled vocals), bassist Thomas Helsberghe (he replaced original bassist Chris in the Fall of 2010, due to a change in the latter's priorities in life), and drummer Dries Claeys] was able to play its first gigs, starting of March 2009. Later that same year, the band released its debut 5-track demo EP Transcend, and since then, the band has played several but sporadic shows. Somewhere along the line, Bjorn and Fré came up with the concept story for a full-length album to be entitled 649 – Diary Of A Murderer. If I got things right, some woman gets bumped off by a secret agent after a short effort to subtract some illusive info from her, and an innocent man is framed for the deed by planted dna. Taken into custody, he is put into a cell with the number 649 (hence part of the album title), and next up, is abducted from that cell by the secret police, who conduct an hypnosis upon him while under narcosis, in an attempt to make him believe that he actually did the killing. But, deep inside himself the accused feels that he could not have done this, and that's what he says to his own defense when dragged into court, where he finds himself "represented" by a lawyer he never even encountered. The court sentence postponed to a later date, he is taken back to prison where he becomes desperate at having to deal with the feeling of having two persons within his mind. Then, a man named JIm comes to pay him a visit in secret, and reveals the facts : they are all part of a manipulation experiment, whereby people are implanted a chip which orders them to do things they normally would not, and thus keep people in check. In fact, the murdered woman was in the Service, and wanted out of the whole filthy business, having just found out that she was pregnant. So there is it : Jim has become aware of the truth through his wife, and is now seeking ways to reveal that truth to the world at large. The protagonist of the story, whom now knows how to counteract the chip in his head, is asked to be patient, but remains in prison, waiting for his condemnation by the courts.... To be followed!
Wow...and to say that at first the story line was somewhat mysterious to me!
As mentioned earlier, the band's music is a female-fronted Progressive Metal, which also has some orchestrated passages in some of its songs. All performed with excellence, with the proper need for details and variations in pace where needed, etc! Besides clean backing vocals by Fré and the very occasional growl by Bjorn, vocal gust performances were done by Scott Stoked in the role of the murderer, Jesse Allen Loner in the role of the doctor (the one performing the hypnosis under narcosis), and Jesper Mahieu in the role of Jim. For your introduction to the band's music, either go to one of its concerts, or listen to the 2 full-length tracks (and album teaser) made available at (www.) myspace.com/immanentdistance (one of the songs is also available as a video clip there). The band also has a site of its own (www.) immanentdistance.com, but at the moment I checked there was noting in the "Audio" section yet, only the video was available. Still, it's the place to go when you wanna know about the band's upcoming live performances!