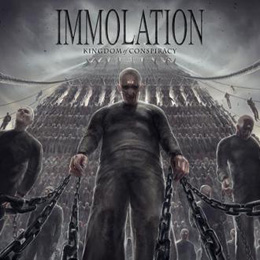 For about two decades and a half, Immolation can be considered one of the most important names when it comes to technical Death Metal. Throughout the years, these guys created a very specific sound, which did, and still does, influence the international (not only the American) scene. Even though the many albums do differ a little from each other, the band's self-developed identity characterizes the essential importance of their existence, and with this new album they even step further to prove the undeniable importance of their raison d'être.
Kingdom Of Conspiracy, lasting for about forty one minutes, is a next step forward after two of the band's most impressing efforts, the 2010-full length Majesty And Decay (you still can find the review I did on this website's Archives section; see update March 24th 2010), and the EP Providence (unfortunately not subject to reviewing opportunities by undersigned or one of the colleagues; but believe me: this mini-recording was one of the best Death Metal things done in 2011!). Again the whole was conceived with assistance of long-time producer Paul Orofino and mixer / master Zack Ohren.
The core of Kingdom Of Conspiracy is the same elemental aggression, balancing in between melody (like All That Awaits Us), technical craftsmanship (God Complex, Bound To Order) and brutal performance (the latter gets beautifully demonstrated by ear-piercing eruptions like A Spectacle Of Lies, amongst others). However, the average tempo might be somewhat less fast than before. Evidently there are lots of fierce and fiery semi-blasters to speed up the whole. But there are more mid-tempo excerpts in comparison to the past. No, it does not mean that Immolation did leave their carefully created path of brutality. Both blasting and slower parts are enormously energetic and power-driven, not differing from the earlier years. Of course that powerful energy has to do with the massive mammoth-sound as well, but that's a certainty not to question.
My major surprising pleasure is the atmosphere on Kingdom Of Conspiracy. Never before any Immolation-album sounded this obscure, grim and abyssal. The album is drenched in some monumental, gargantuan and ultra-heavy fog of post-ritualistic yet, at the same time, slightly catching imagination, accurately and meticulously elaborated and executed.