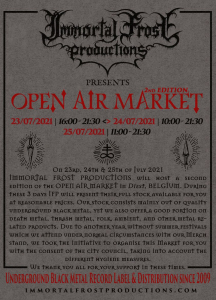 Album Title:
Immortal Frost Open Air (Black) Metal Market
Our sympathetic friends from Immortal Frost Productions will organize a second edition of their air market. The first one left me broke, but that wroth and infuriated look on my wife's face made it all up, haha. It's dedicated to Black Metal especially, as well as related underground genres (Death / Speed / Thrash Metal, and some Folk and Ambient stuff); compact disc, vinyl, tape, DVD from their own label and loads of other material. Free entrance.
Address: Reynsberg 24, B-3290 Diest, Flanders, Belgium
Friday 23/07/2021 - 16:00 - 21:30
Saturday 24/07/2021 - 10:00 - 21:30
Sunday 25/07/2021 - 11:00 - 21:30
!!!--- cash only---!!!
Check the FB-page: https://www.facebook.com/events/110268077867678
Respect the current covid-rules!
Info:
Immortal Frost Productions will host a second edition of the Open Air Market in Diest, Belgium. During these 3 days IFP will present their full stock available for you at reasonable prices. Our stock consists mainly out of quality underground black metal, yet we also offer a good portion on death metal, thrash metal, folk, ambient, and other metal related products. Due to another year without summer festivals, which we attend under normal circumstances with our Merch stand, we took the initiative to organise this Market for you with the consent of the city council, taking into account the different hygiene measures. We thank you all for your support in these times.
Dates & Opening Hours:
Friday 23/07/2021 - 16:00 untill 21:30
Saturday 24/07/2021 - 10:00 untill 21:30
Sunday 25/07/2021 - 11:00 untill 21:30
Bar Area / Catering:
Beer - Jupiler 5,2% - € 2,00
Coca Cola - € 2,00
Cola Zero - € 2,00
Water - € 2,00
The IFP Bicky Burger: € 3,50
The IFP Bicky Cheese Burger: € 4,00
Please bring cash money! We exceptionally cannot accept card payments this weekend. We do accept mobile payments.
HOW TO GET THERE:
By car:
The Open Air Market is close to the E314. Plenty of parking possibilities in the street. Please respect our neighbors driveways!
By train:
You can also reach the Open Air Market by train and bus. From the train station in Diest, take bus 22 to Tienen or bus 299 to Hasselt and stop at Webbekom Centrum. Then walk 500m via the Webbekomstraat on your right (the street of Scarlet Club).
ROCK / METAL CAFE HELL:
For all you Crazy Metal Maniacs that will visit our Open Air Market: next to our own Bar Area where you can sit and relax with a beer & burger after your purchases, you can always visit our local Rock / Metal Café Hell in our city centre (around 3-4km from the Market) for more Metal Madness while enjoying some strong beers.
Every evening we'll do an after party at Hell! And on Saturday evening there will be a Black Metal - Album Release show as well!
Hagelant Fest "Covid Edition": Antzaat & ILL "Album Release Show"
Facebook event: https://www.facebook.com/events/203832124991951
Under current covid restrictions they can stay open until 1:00 am for our afterparties!
https://www.facebook.com/helldiest
COVID-19 INFORMATION UPDATES
Restrictions regarding our Open Air Market:
Our city council has confirmed that we can welcome our visitors at the second edition of our Open Air (Black) Metal Market, yet, we'll have to respect the maximum capacity of 75 people (that can visit our Market at the same time), so the 1,5 meter distance can be guaranteed. If more people arrive, you'll have to wait your turn until other people take their leave. Yet, I can assure you that the odds on having 75 visitors at the same time are very small, so don't panic and bring your friends.
We've also been asked if our visitors can possibly wear a facemask when we are at full capacity. (this is of course still a free choice). For those who don't have a facemask and wish to wear one, we with Immortal Frost Productions will have 2 designs available for purchase during the market which you can ask about if needed.
Disinfectant hand gel will be provided for all customers!!!
Contact: [email protected]
Website: http://immortalfrostproductions.com / http://shop.immortalfrostproductions.com
 
We thank you all for your support in these times.
SUPPORT THE UNDERGROUND!!!
Ivan