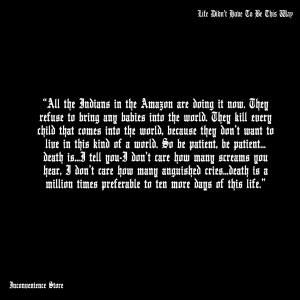 Album Title:
Life Didn't Have To Be This Way
All the Indians in the Amazon are doing it right now. They refuse to bring any babies into the world. They kill every child that comes into the world, because they don't want to live in this kind of a world. So be patient, be patient… death is… I tell you – I don't care how many screams you hear, I don't care how many anguished cries… Death is a million times preferable to ten more days of this life.
(quote from James Warren 'Jim' Jones, you know, leader of the sectarian commune that is -unfortunately- only known (or at least especially known) for its mass murder / mass suicide in 1978 in Jonestown, Guyana)
(cf. the visual profile on this act's BC-page – link below)
Welcome to another world of joy and happiness…
A short introduction: Inconvenience Store are an outfit from Needham, MA, US, close to Boston, Cambridge and Framingham. It was formed, and still led, by Jonah Asher Feintuck (composing, programming, samples, field recordings and artwork), assisted once more by long-time collaborator Funnels (programming and samples, production, mix and mastering) and Paul Zulla (programming and, indeed, didgeridoo). This social-critical family did create some weird material in the past, and the new digital EP Life Didn't Have To Be This Way follows that path of cynical and critical, well, as they call it: Experimental Hardcore. I could somehow appreciate their frenzy 2016-EP Kallisti (Hardcore baby!) or last year's If I Was A Morgue, No One Would Die (much more experimental), but this newest piece trespasses all limitations of normality, haha. It goes further where If I Was A Morgue, No One Would Die came to an end, with a harsh mixture of Noise, Experimental, Drone and a strange amalgam of sounds. The initial Metallic Hardcore basics have mainly been replaced by programmed noises; an evolution that took place as from a while ago, step by step…
Take Weight (3:50), for example. It starts with a slowed-down Dub-Step / Reggae / Hip-Hop thing, I believe, totally decelerated, with sampled dub beats and digital Rap voices. Yet soon things move over towards a harsher spectrum, with metallic guitar shrieks, thunderous noises and heavy drones, eventually joined by a decelerated spoken world sample (a fragment from a Jim Jones interview perhaps?). Unusual, far away from their Punk / Metal / Hardcore origins 'of Old'… As long as the sick / sickened / sickening capitalist leaders are removed, the 'weight' of open-mindedness will rule – hehe, this said…
…An Afterthought (2:09) too starts with a fragment from an interview, this time one with an elderly lady (yes, this time I am pretty sure, for I have seen the original fragment on the band's FB-page), played slowly, dealing with the question: what's the next step after earthly life, and what if you do not believe in an afterlife anymore? This gets accompanied by sounds of rain, or at least a static noise – nothing more, yet certainly nothing less either. A confrontation with reality…
The third and last lullaby, Pain Laid Raw In Retrospect (with its length of four minutes, it's the lengthiest one on this three-piece EP), initially combines, once more, a spoken word sample, with programmed percussion, deeply-dubbed bass beats and hints of electronica. After one minute and something, things turn into spacy, psychedelic spheres for a short while, before going back to that original approach of sluggish, almost inert Disco / EBM / Dub Step / Hardcore Techno stuff. After about three minutes, things turn little more energetic, with deep-tuned basses and jazzy percussion.
This EP is a very strange, experimental one, and it stands far away from the funereal or obscure things you might cross when checking this webzine's core business. But hey, there is at least one thing in common: we're doomed!
Peace! Cyanide!
https://inconveniencestore.bandcamp.com/album/life-didnt-have-to-be-this-way
https://www.facebook.com/ISBAND781/?ref=page_internal