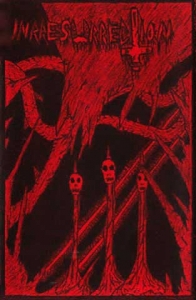 Concreteweb did publish a review for the untitled Enza Negra EP, which is one of the projects that involves Jose 'RottenCorpse' Murcia (hey, Murcia is also the name of the city this guy lives in). The guy runs Craneal Fracture Records too, a label especially known for Noise, Power-Electronics and the likes. One of the newest releases on that label is for another project he is involved with (or better: 'he was involved with', for the band disbanded), being Inrresurrection (it's not misspelled; it does come with two r's in the beginning too!). Actually, this specific recording was originally self-released in 2013, but the recordings are even older, for it was registered in some (home?) studio in March 2003, in a recording session that took two days only. Anyway, now it gets a decent output and promotion via Jose's own label.
Inrresurrection's Skull On The Cross demo was one out of two demonstrational releases done in 2013 (there seems to be another demo recording, which might be officially re-released later this year), now being released on a two-sided cassette edition, limited to 100 copies. Old schooled stuff on tape, yeah, the way it must be! And 'old school', well that for sure is the identity of Inrresurrection's muSICK. With Skull On The Cross, we do experience the purest form of the Eighties' sickness, the deepest pits filled with filth, the nastiest ugliness ever created. This stuff stands for an unstoppable, violent, sadistic form of ultimately morbid and blackened Death Metal, leaving acts like Goatlord, Putrefact, NunSlaughter, Death Vomit, Putrid Evocation or Incantation like sad puppies behind… It's like being recorded in some catacomb, during a torture-ritual, explaining the primitive sound, uplifting the identity of this three-piece combo. Fast drum parts (mind the cool interaction when decelerating, and the well-though use of cymbals), kinetic and often thrashing guitar riffing, low-tuned bass lines (though, unfortunately the minor sound quality puts the bass lines to the background), but especially, the ultimately abyssal and sulphuric grunting throat of Acid Brain (who's in Enza Negra too, by the way) define the glory days of the oldest school, the stuff that was born out of the stench pits from our rotten globe.
For sure it totally lacks of originality, but this adventure is the purest tribute to what once the essence, to what is the basement for the sonic destruction of our brain. Passé? Maybe it is, but better this than modernistic trendiness that bore the sh*t out of me / you. I just wanted the sound quality being polished up a little more, not too much (an improved mix would make quite a difference), but let's say that I am not disappointed at all. I hope Jose will come up with new material soon under the Inrresurrection moniker.