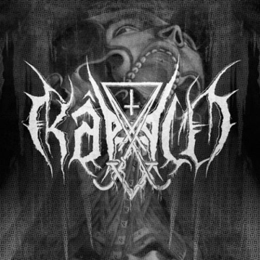 Album Title:
A Perishing Escape In 2014
Kâhld are a new project by LukHass, founded earlier this year in Baden-Württemberg. You might know this guy from 'old' Black Metal-act Cryptic Forest (they released their debut full length last year; Ystyr), but as Rakshasa, he's also active in Black Metal-duo Endstadium or Innenkrieg, a Black-outfit he shares with bassist Jerndod, who's part of Kâhld's line-up too. Both projects however have nothing to do with each other. Besides LukHass started the professional multi-disciplinary bureau Lukhass Design, which focuses on visual support for bands (i.e. video production, logo design, layout, photography, web design etc.). Check his site (lukhass-design.de) in case you're curious or interested.
Anyway, LukHass and Jerndod recorded and self-produced the demonstrational / promotional EP A Perishing Escape In 2014 with assistance of session drummer Sebastian 'S.' Unic, who also acts as session drummer on Kâhld's live gigs. FYI: Sebastian is also involved with Death Metal combo Crimson Death, and part of the Hysterie line-up. This three-tracker is limited to an edition of 100 copies only and lasts for fifteen minutes.
What these guys bring with A Perishing Escape In 2014 is a surprisingly nice and, above all, powerful sonic assault. Cold Extinction, the opening track, immediately starts the most brutal way by means of a blasting eruption, combining technical craftsmanship and massive melodicism. This strong composition stands for that form of Black Superiority that shows the difference in between mainstream and pathetic existence, and the purest definition of fierce, honest grimness. The song differs with its interchanges in tempo and melody, yet it maintains the initial evilness throughout the whole composition. Despite a traditional approach, this stuff does sound refreshing and typifying, which might be a surplus. Next comes Interlude, a smart title for an instrumental interlude. It sounds more epic than the opening song, if only because of the heroic drum patterns and melodious guitar riffs, yet still it exhales a mostly angry, misanthropic atmosphere – which undersigned does appreciate a lot, for what it's worth. I knew it would be a good thing to contact this entity… The third, and last, track, The Leader's Army, sounds like the perfected continuation of the former piece, bringing back the roots of the early nineties' evilness to high peaks of morbidity. Once again, just like the opening composition, this one is divided in several coherent pieces, interrupted by sudden breaks and tempo-changes, yet maintaining the initial stench of sulfur and absinthe. The Leader's Army is even more varying, not only because it lasts little longer, but because of the distractive and discordant structural inter-changes. Overall this track too is focused on highly-energetic and semi-blasting aggression in combination with ominous melodies.
I didn't mention the production, but believe me if I say: sublime! This stuff is not over-produced at all, nor is it cheaply recorded. The rawness strengthens the fierceness, and that's the way this kind of Black Grotesquery must sound like. Or in conclusion: dear LukHass, please do honor the audience with a full length soon… …and I mean: SOON!