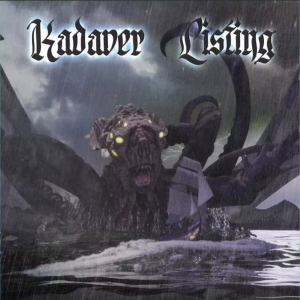 The multiverse of Aesthetic Death has no boundaries whatsoever. Except for some ABBA-compilation or a tribute to George Michael, I guess this label sort of investigates all angles within the sonic spectrum. I firstly wanted to mention 'within the musical spectrum', yet as from this specific release on… I'll come back to this album immediately. The label houses bands and projects in many aural areas, especially Metal-oriented (Doom, Black, Funeral Doom, Sludge) and within spheres of Dark Ambient, Power Electronics, Esoteric Drone and Ritual. As soon as the aural content exceeds the grey masses, trespassing the borders of normality, Aesthetic Death will be part of it.
This open-minded vision has now gone further, deeper and wider than ever before. Aesthetic Death has signed a new collaborative project, called Kadaver Listing (also written as Kadaver / Listing or Kadaver/Listing, apparently). And that's remarkable, yet at the very same time, it shows – once again – that wide-visioned identity of this unique label by Mister Stu Gregg. Some words about the project, the album's background and the sound-collages behind this nameless (or self-called, if you wish) debut will follow.
Well, the project is a collaborative effort of two guys that are quite 'notorious' within the harsher Music scene(s). At the one hand you have Kadaver (real name: Michael Zolotov), originating from Israel, if I am not mistaken, and the brain behind his self-called Death Industrial / Harsh Noise / Power Electronics act Kadaver. Here he brings 'Noise / electronics / audio terrorism' or 'Effects, Loops, Soundscapes and Noise'. At the other hand we have the American musician Clint Listing (performing 'Voice / Aural Destruction' or 'Voice, Guitars, Synths and Noise'), know from numerous other great bands and projects (just like Kadaver, by the way), such as Black Depths Grey Waves or Until The Sky Dies. And now they teamed up…
Kadaver Listing recorded (yeah, whatever; you can also say that they 'manipulated', 'tortured' or 'raped' an collection of sounds) three tracks (yeah again, whatever you might call it anyway), with a long average duration (see further). The untitled result was released digitally in early 2021 via Aesthetic Death and Dead Games Records, and the physical via Aesthetic Death, of course. It is a three-folded (aka 'six-panel') digipack that includes truly scarifying, breath-taking, yet marvellous and fitting artwork (no idea who is behind the majestic painting work).
The duo performs 'Ugly Harsh Noise with Avantgarde Soundscapes', as they call it themselves. And actually this is not such bad description at all. I would use 'insensate', 'morbid' or 'deranged' to define their muSICKal approach.
The experience starts with the lullaby Aquatic Demonic (15:51), which indeed has that 'watery' effect through its sound-sculpture. In an experimental way, manipulated noises of water (and wind) mingle with eldritch textures and, somehow, demonic incantations at the background. Harsh structures crawl forth and forward, covering everything in an asphyxiating fog. Monstrous actions and haunting reverberations overwhelm and confuse, albeit in a masochistically attractive sense of grimness and ire. This stuff surely represents the nautical demon from the artwork…
The second piece is the shortest elegy, with its duration of 7:08. That's a relief, for it is not that lengthy; especially when you suffer from any heart- or nerve-related disease. Razor Love Orchestra is little more monotonous and ambiental in execution, with a mechanic, somehow industrialized droning sound-effect within the result. Slowly yet confidently, the track evolves, touching the rusty and sharp-edged fulfilment of abyssal immensity and oppressive elusiveness.
The album ends with Rusty Empty Heart, and prepare yourself for not less than twenty-two minutes of aural joy and pleasure – at least from a mostly self-inflictive, auto-mutilative point of view. This symphony of exploited sound-manipulation brings forth a colossal wall of pandemonic clamour through a multiple injection of configuration and audible havoc. Despite it's length, Rusty Empty Heart sort of progresses the whole of the time, albeit very subtle and almost secretly, with both expanding structures and fading designs. Oh yes, just wait until the very end, for that relieving grande finale…
A mixture of Ritual Noise, HNW, ANW and Experimental Power Electronica, as an output by two experienced artists, that's what Kadaver Listing stands for… Recommended with headphones, or loud; and I mean: ear-deafening loud!
https://aestheticdeath.bandcamp.com/album/split-cd-2
https://www.aestheticdeath.com/releases.php?mode=singleitem&albumid=5101
https://kadaverlisting.bandcamp.com/album/kadaver-listing