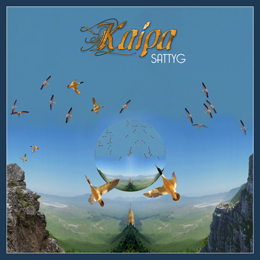 Release Date:
Monday, November 10, 2014
Kaipa released their first album in 1975. Almost 40 years later they release their twelfth album. It's the first time I hear music of these seasoned Swedes and I'm positively surprised.
The CD kicks off with the 15 minute epic A Map Of Your Secret World. The mix of rock, fusion and folk is creating a beautiful musical landscape that impresses from the first second. Aleene Gibson voice fits perfectly with that of singer Patrick Lundström. Both their voices strengthen each other and this gives often goosebumps during the songs. Guitarist Per Nilsson of Scar Symmetry shows here a whole other spectrum of his talent by bringing dreamy spacious guitar solos throughout the album. With Screwed-Upness and A Sky Full Of Painters we find two more long epic songs on the album. The first one is more experimental and dark and the latter one is a more light frivolous tune. The other four songs on this CD are shorter but bring the same ingredients as the three epics.
Whatever they bring the musicianship on this album is very high and the compositions although sometime very long never fail to keep your attention all the way through. It's about time I start exploring the back catalog of this band.