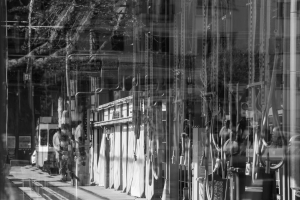 If I'm not mistaken, Kazemat hail from Switzerland. This experimental project released a couple of recordings via Spain's Craneal Fracture Records, one of the most influential labels when it comes to Noise / Drone / Experimental Music.
Fraktale Dekonstruktion has been released on tape on comes with great artwork, which is like the purest visualisation of the sonic essence. I adore it when the artwork and the aural aspect complete each other. The cassette consists of five lengthy elegies, which were real time recorded and composed live in 2016.
Side A comes with the three 'shortest' tracks, varying in between eight and ten minutes. It's like the unphysical embodiment of machinery, expressed via electronic sounds and mechanical drones. These pieces are very dynamic and energetic, yet without exaggeration. They express a negative vision, while being veiled in a very darkening mist. U280816 is a rather repetitive thing, not monotone but self-repeating in structure at first listen. Though there is a permanently evolving progressing, building up over and over again. The several layers reveal a rich scala on beats, noises and general experimentation. Both other pieces on the A-side, H19781 and K000005, are like a diptych, closely related to each other. There is more depth in them, more obscurity in atmosphere, and less repetition. Both droning tracks come with a mesmerizing ambiance, constructed out of intelligently created levels of profound sonority. Besides, both contain unexpected but excellent moments of conceptual draught, more tranquil in sound, yet at least as intensive in perception and sensation. I think it's just magnificent.
The B-side consists of two titles, clocking half an hour. These ones differ from the ones on the A-side, and they do differ from each other as well. And still there is a cohesion in between all five of them. KK3007 combines different sounds and noises, and rather than the droning A-side, this track (and the next one) dwell within spheres of Experimental Noise. Built on a static basement, the injection of harsher excerpts and some fragments of Noise Wall and sampled sound sources create another attitude, rather post-industrialised and quite complex. KERv100 is comparable, but it contains several electronic excerpts too. Low-pitched Techno-beats, spacy loops, pungent electronics and mordacious noises are woven into a frenzy mix, brain-twisted and mind-f*cked. It's harder to get through, compared to the three first compositions, but it's a pleasure to get submerged into, even though it needs endurance and pertinacity.
I absolutely prefer, and adore, the A-side of the tape, and the diptych H19781 / K000005 more specifically. But the whole Fraktale Dekonstruktion experience is highly recommendable if you're into the maddest side-genres of Noise Drone Ambient Industrial Experimental Music. Once again, Craneal Fracture Records somehow surprises. There are so many great Noise labels lately, and it's not easy to stand out, but with this kind of releases, you strengthen your position on the worldwide map. Great!