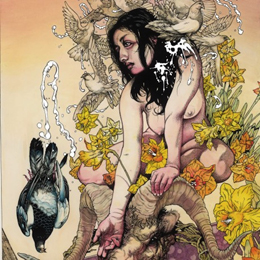 Kvelertak (Witch is Norwegian for "stranglehold" or "chokehold") is a six-piece rock band witch was formed in 2007. The group comprises of singer Erlend Hjelvik, guitar players Vidar Landa, Bjarte Lund Rolland and Maciek Ofstad,bass player Marvin Nygaard and drummer Kjetil Gjermundrød. The band's self titled debut album was released in 2010 and sold more than 15,000 copies in Norway witch certainly ain' t that bad for a debut record The second album, Meir was just released last month.
Well I haven't heard their debut album so I can't really compare them then and now. And to be honest, during the first listening of this record i actually couldn't find myself enjoying this record. Don't understand a word of what they are singing & screaming and at various points it sounds chaotic. But the musicianship of these guys (how chaotic it may be) does grow on you.
This is not something everyone will enjoy due to the fact that it is rather "special", but in the end it is that good that you should give it a listen.