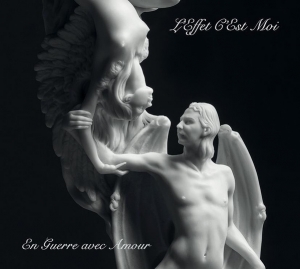 After several years of silence, Emanuele Buresta returns with a new work under the moniker L'Effet C'Est Moi. This Italian guy (Italian, despite the French moniker and the lyrics in French) started a decade ago with L'Effet C'Est Moi (first album: Tomber En Héros in 2006), and now he returns with the fifth album, called En Guerre Avec Amour ('at war with love'). The conceptual theme is based on the relationship in between love and war, partly through the poetry and lyrics by John Lyly and some Nietzschean philosophies. War and love are undeniable related, just like the necessary differences in humanity's social order (I'm glad I do belong to the elite!).
On this album, written and arranged in 2014 and 2015, Emanuela joined forces with Der Feuerkreiner's vocalist Valentina Castellani, which is a first yet quite important difference with the former efforts. It does result in ten pieces (total running time: over forty minutes) that got released on Italy's Old Europa Café, supported by truly great artwork.
En Guerre Avec Amour collects the essential elements of martial perseverance, neo-classical symphonies, folky memories and wavy Ambient details, all this being canalised into a quite spiritual, conceptual form of aural neo-romanticism. Valentina's voice surely trespasses the non-existent borders with the Dark / Goth / Wave scene, and the multi-layered instrumental bombast strengthen those impressions of militant, even emotional grotesquery.
Don't expect too much grandiose ideas, extravert outbursts or renewing aspects, for you will find none. But if you're looking for an attractive hybrid of symphonic militant orchestrations and ritual Goth-Wave atmospheres, then this album might surely persuade. The electronic elements strengthen the Dark Wave / Gothic attitude, and this with a wink to the scene from the first half of the nineties (and who are we to disagree such decision! – Goutte Après Goutte could have been a 'lost track' by Dead Souls Rising, if you want to…).
There's quite a lot going on, but (unfortunately) it does not always reach the level, the intention it is supposed to be, I think. I'm left with a hungry feeling, not totally satisfied, despite the great intentions and fabulous performance. I think it might have to do with the sound, which is much too clean, and the execution, which is way too safe, too goody-goody, too non-adventurous. There is not one single composition that lacks character, but I do miss that little more 'darkness', and we'll have to wait until the end to enjoy that overwhelming nastiness (by means of Soyez Grands Dans Votre Faiblesse). But because of tracks like this one (as well as, for example, the opener À Mon Côté, amongst others), this release is more than a passage though Gothic / Neo-Classical / Martial spheres.