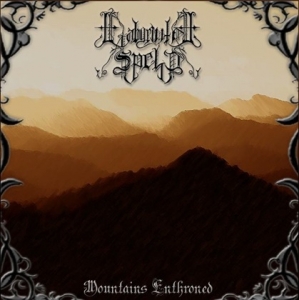 Labyrinth Spell are a Brazilian act that started in 2000. But despite a decade and a half of existence, they were not quite active with only a limited amount of demonstrational recordings. In 2012 and 2013 the quintet recorded their debut full length studio album (at the Gramute Studio in their home country), which was eventually independently released in 2013.
The Ukrainian label Vacula Productions, home to many great acts, decided to re-issue this material the decent way on CD. Eternal thanks!
Mountains Enthroned, which lasts for thirty eight minutes (seven songs, that with exception of the outro last in between five and seven minutes), stands for that kind of material that characterized the origins of the Second Wave trend (though, 'trend' must NOT be considered as something like 'trendy'!). It's an interpretation of especially Scandinavian-rooted and Nordic-styled Epic Black Metal with a focus on fastness, melody and grimness. So, forget the exotic beaches from Brazil – the palm trees right here are burning, the beaches' sand red of blood, and crowded with dead corpses, and… Oops, back to self-control… No, seriously, this material exhales pretty much of the nineties scene, which undersigned cannot disappreciate, and the result isn't that bad either, when referring to the song writing, performance and production. Okay, one might miss the intensity of the original scene, and this album has something catchy too, rather than something destructive. But with pieces like Nocturnal Ancient Forest or the title track there are even hints of the most barbaric and glorious bathorian atmospheres. And that's a surplus, the variety in between those seven different yet coherent compositions.
Anyway, Mountains Enthroned isn't a renewing album, nor the best thing one might experience this decade. But the honest listener cannot, and must not, ignore the quality of the result, which actually is quite acceptable in many aspects.