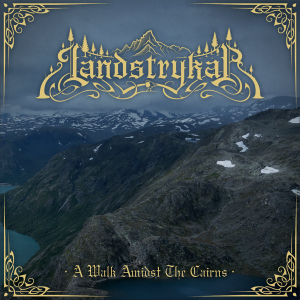 It was purely coincidentally that I came in touch with some friendly guy called André and a new project he started, called Landstrykar. …doesn't matter how we 'met', but I was truly intrigued by what I heard. I'll start with a small introduction.
Apparently, Landstrykar is a young project from Dutch soil, formed to canalise this guy's passion for atmospheric / epic Music with a huge dose of Fantasy, as well as symphonic movie and game soundtracks. If I am not mistaken, this album, called A Walk Amidst The Cairns, is the official debut. The album was finished in early Spring this year after more than one year of recording / mixing, and eventually released after some (permanently) updates and improvements, since the mastermind behind it could live with the result. Well, let's say that the result indeed is more than acceptable when it comes to song-writing, performance and sound. But I will come back to this immediately.
So, A Walk Amidst The Cairns is a collection of nine hymns, clocking about sixty-six minutes (!). Indeed, this album brings more than one hour of Aural Art. The project did release this stuff via the contemporary digital sources (Bandcamp), evidently, but there is a compact disc version too, being a six-panel digipack edition (hand-numbered, by the way), designed by both the project and visual art company Wappenschmied (also responsible for the logo, for instance). Sources of inspiration are, besides higher mentioned electronic / symphonic / fantasy-oriented sonic influences, the Northern nature (the cover picture, by the way, was taken in Norway), and the artwork, as well as the album's title, do surely fit to this concept and so is the aural execution of A Walk Amidst The Cairns. Or, as referred to in the (official) biography, and I'll quote, 'this album forms a soundtrack to wanderings in northern nature that will guide the listener over majestic mountains through mysterious forests, and along grand fjords, evoking wanderlust, in still wonderment and admiration for the mysteriousness and grandeur of nature, and nostalgia and longing to return to beautiful places once visited'. Believe me: this fits to the sonic content for sure!
The album opens with the short piece (2:37 in length, and therefor the only one that clocks less than five minutes) Dawn Of A New Journey, preparing us for a brave quest through secret forests, rough landscapes not yet explores, and misty valleys where ancient spirits dwell. It does set the tone for the whole album, going for composition and atmosphere. Several levels of dreamlike, gloomy, even epic synths are canalised into one mighty overwhelming melodic structure, based on different keyboard levels. There are permanently new melodies joining the epic, growing and expanding with conviction as well as integrity. All this gets joined by fine drum- and cymbal-work, pride yet down-earthed.
And so this album continues. The keyboard lines – as said, there is a permanent interplay of different layers – are quite varied. Calm, slowly-floating and symphonic passages interact organically well with some rather bombastic symphonies, then again evolving into victorious, valiant excerpts. You hear, and therefor you feel, the adventurous story-telling; no words are needed to march along with mystic creatures, heroic figures or magic spirits through the woods. In a very natural way, things evolve and increase, then again everything seems to fade away, slowly, step by step, before returning to an undeniable level of undauntedness, of valour, of perseverance. Once in a while, it takes over the sound of flutes, piano or strings, always at the right moment to focus on the essence of the story, the event during this quest. Of non-deniable importance too are the additional percussions: martial drums, victorious battle drums (sometimes deeply inspired by acts like Summoning indeed), modest percussions whatsoever. There are even chimes, wind-bells and cymbals involved. Also the few samples (birds, rain, thunder) are meticulously used when necessary. And in a piece like Embers & Moonlight, Landstrykar make use of acoustic guitar as well. It has something Nature Folk-oriented (not Neo-Folk or Sad Folk wise), a sombre yet somehow refreshing approach inclusive, serene at first, rather uplifting towards the end.
A Walk Amidst The Cairns stands for an adventurous-atmospheric mixture of Symphonic Music, Dungeon Synth, Epic Ambient and Dark Orchestra, balancing in between both darkening and enlightening spheres, abundant in song-writing, ardent in execution.
https://landstrykar.bandcamp.com/